Distinctly one-of-a-kind, this unique publication focuses on both interior and exterior aspects of financial health goals—helping students understand the root problems that are commonly encountered when dealing with financial issues that affect clients' mental health, relationships with their spouses, and their ability to achieve financial planning goals.

Comprehensive yet concise, this newly updated handbook integrates tools from the fields of psychotherapy, life coaching, and financial planning for future client interaction—with an emphasis on specific methods and real-world techniques.

Students Will Find This Handbook to:

•

Uniquely address money-driven problems faced by financial planners and mental health professionals with the perspectives from both fields.

•

Offer the best techniques from both the mental health and financial planning fields.

•

Help them recognize when to call in help from outside their own field when dealing with clients' financial issues.

•

Include tips on working with individuals and couples on difficult financial health topics.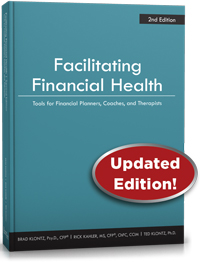 Facilitating Financial Health,
2nd Edition
By Brad Klontz, Psy.D., CFP®,
Rick Kahler, MS, CFP®, ChFC, CCIM,
and Ted Klontz, Ph.D.
Product #: 7370002
ISBN: 978-1-941627-87-7
Format: Paperback, 6" x 9"
Page Count: Approx. 260
Pub. Date: May 2016