Industry news, expert analysis, and daily updates on the most significant insurance coverage legal developments—from the insurance and legal experts of The National Underwriter Company.


Exclusions
"Horse and Horse Drawn Units" Exclusion Bars Coverage of Plaintiff's Claim that He Had Been Injured while Riding a Horse in Insured's Riding Ring
The U.S. Court of Appeals for the Eleventh Circuit has ruled that an insurance policy's "horse and horse drawn units" exclusion precluded coverage for a lawsuit against the insured in which the plaintiff asserted that he had been injured after he fell off a horse in the insured's riding ring.
Read More
Automobile Insurance
Widow of Patrolman Shot by Another Officer When Suspect Drove His Car at Them Is Not Entitled to Uninsured Motorist Benefits, West Virginia's Top Court Rules
The Supreme Court of Appeals of West Virginia has affirmed a trial court's decision that a widow of a patrolman who was accidentally shot by another officer when a suspect drove his car at them was not entitled to underinsured motorist benefits. The court decided that the widow's claim did not arise out of "the ownership, maintenance, operation, or use" of the suspect's vehicle.
Read More
Homeowner's Insurance
Business Activities Exclusion Bars Coverage for Dog Bite Claim
An Illinois appellate court has affirmed a trial court's decision that a business activities exclusion in a homeowner's insurance policy barred coverage for a woman's claim that she had been bitten by a dog while visiting the insured home to potentially purchase a puppy.
Read More
Exclusions
5th Circuit: Notice After Pollution Buy-Back Clause's 30 Day Deadline Dooms Coverage – Even in Absence of Prejudice
The U.S. Court of Appeals for the Fifth Circuit has affirmed a district court's decision that an insurer was not required to show prejudice before denying coverage for liability arising out of a pollution occurrence that the insured did not report within 30 days, as required by a pollution buy-back clause in the policy. In its decision, the circuit court found that the "clear notice requirement" in the "specific endorsement, separately negotiated by the parties," was "essential to the bargained-for coverage." Simply put, the circuit court decided, when the pollution endorsement was added, "the parties specifically inserted a 30–day reporting requirement" into the policy that trumped the policy's "as soon as practicable" notice provision.
Read More
---
View All
Case Law Developments

Accounting
FASB Proposes Changes to Accounting for Insurance Contracts
The Financial Accounting Standards Board has issued for public comment a proposal that would alter the financial reporting of insurance contracts, including measurement of insurance liabilities and the related effect on the statement of comprehensive income. Proposed Accounting Standards Update, Insurance Contracts (Topic 834), would apply to all contracts that meet the definition of an insurance contract, not just those written by insurance companies.
Read More
In the States
John Hancock to Pay More Than $40,000 to Settle Claims It Provided Erroneous Long Term Care Policy Information
John Hancock Life Insurance Company has agreed to pay more than $40,000 to settle allegations that it provided erroneous information to consumers who inquired about their coverage under certain long term care policies. Read More
---
View All
Legislative/Regulatory Developments

Steven A. Meyerowitz, ESQ.
Director, FC&S Legal

Victoria Prussen Spears, ESQ.
Associate Director, FC&S Legal

FC&S Legal Editorial Advisory Board

Mitchell J. Auslander, Willkie Farr & Gallagher LLP
Carrie Cope, Schuyler, Roche & Crisham, P.C.
Anjali C. Das, Wilson Elser
John F. Finnegan, Chadbourne & Parke LLP
Michele L. Jacobson, Stroock & Stroock & Lavan LLP
Timothy P. Law, Reed Smith LLP
Donald S. Malecki, Malecki, Deimling, Nielander & Associates, LLC
Cort T. Malone, Anderson Kill & Olick, P.C.
D. Milone, Kelley Drye & Warren LLP
Joseph P. Monteleone, Tressler LLP
Anne M. Murray, Rivkin Radler LLP
Jerold Oshinsky, Kasowitz, Benson, Torres & Friedman LLP
Seth B. Schafler, Proskauer Rose LLP
David D. Thamann, The National Underwriter Company
INDUSTRY NEWS
United Insurance Holdings to Be Included in the Russell Microcap Index
Read More
ACE Launches Financial Lines Insurance Team in Turkey, Appointing Sare Bayat as Financial Lines Manager
Read More
Insurers Face Global Megatrends that Threaten Growth and Profitability, Survey Finds
Read More
NEW PRODUCTS
Aflac Launches Enhanced Group Short Term Disability Plan
Read More
PEOPLE
Federation of European Risk Management Associations Elects 4 Board Members
Read More

View All Industry News
---
CALENDAR
Montana Captive Insurance Association, Inc., 8th Annual Conference
Read More
2nd National Advanced Forum on Life Insurance and AD&D Claims and Litigation
Read More
NAIC Summer 2013 National Meeting
Read More

View Full Calendar
---
INSURANCE COVERAGE LAW REPORT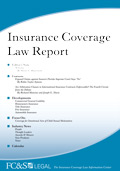 Focus On: Inadvertent Omission of Exclusion Created Only the Appearance of Coverage, Circuit Finds in Upholding Decision Overturning Jury Verdict in Insured's Favor
Read More
State Responses to Superstorm Sandy and Other Natural Disasters: Implications for Ceding Companies and their Reinsurers
Read More
Insurance Certificates and Evidence of Insurance for Lease Transactions
Read More

View Entire June Insurance Coverage Law Report
View Insurance Coverage Law Report Archives
---
CONTACT US:
Customer Service:
1-800-543-0874
Email:
customerservice@sbmedia.com