Industry news, expert analysis, and daily updates on the most significant insurance coverage legal developments—from the insurance and legal experts of The National Underwriter Company.


Flood
Court Dismisses Insured's Suit against FEMA, Finding that Her "Supplemental Claim" Was Not a "Proof of Loss" as Policy Required
Relying on a "strict compliance" standard rather than a "substantial compliance" standard, a federal district court in Kentucky has dismissed an insured's lawsuit against the Federal Emergency Management Agency under a standard flood insurance policy where the insured had not filed a signed and sworn proof of loss for a supplemental claim she had submitted to FEMA.
Read More
Commercial General Liability
Appellate Court Rules that Person Was Not a "Volunteer Worker" and Thus Was Not an Insured Under Company's Policy
A Missouri appeals court has ruled that a person was not a "volunteer worker" entitled to coverage under a company's commercial general liability insurance policy where he was not subject to direction by the company and the policy did not provide for a volunteer worker to be directed by an agent of the company.
Read More
Commercial General Liability
Connecticut Supreme Court Determines Damage Caused by Unintended Faulty Work Constitutes Property Damage Resulting from an "Occurrence" Under Standard Commercial General Liability Policy
Jurisdictions are split over whether defective construction can give rise to an occurrence under commercial general liability insurance policies. Some jurisdictions have held that faulty workmanship cannot constitute the basis for an occurrence because it is not the type of risk intended to be insured by commercial general liability policies or lacks the fortuity necessary to be considered an accident. In contrast, other jurisdictions have held that faulty workmanship may constitute the basis for an occurrence because it is unintended. The Connecticut Supreme Court joined those courts holding that faulty workmanship may give rise to an occurrence in the recent decision Capstone Building Corp. v. American Motorists Ins. Co., SC 18886, 2013 WL 2396276 (Conn. June 11, 2013).
Read More
Exclusions
5th Circuit: Notice After Pollution Buy-Back Clause's 30 Day Deadline Dooms Coverage – Even in Absence of Prejudice
The U.S. Court of Appeals for the Fifth Circuit has affirmed a district court's decision that an insurer was not required to show prejudice before denying coverage for liability arising out of a pollution occurrence that the insured did not report within 30 days, as required by a pollution buy-back clause in the policy. In its decision, the circuit court found that the "clear notice requirement" in the "specific endorsement, separately negotiated by the parties," was "essential to the bargained-for coverage." Simply put, the circuit court decided, when the pollution endorsement was added, "the parties specifically inserted a 30-day reporting requirement" into the policy that trumped the policy's "as soon as practicable" notice provision.
Read More
---
View All
Case Law Developments

Alternative Risk and Captives
North Carolina Governor McCrory Signs NC Captive Insurance Act into Law
North Carolina Governor Pat McCrory has signed into law HB 473, the North Carolina Captive Insurance Act.
Read More
Insurance Fraud
Allstate Sues 47 Durable Medical Supply Firms for Fraud
Allstate Insurance Company is seeking to recover $6.6 million in treble damages against 80 New York and Florida area defendants in its fourth insurance fraud lawsuit of 2013. Since 2003, Allstate has filed 48 fraud lawsuits in New York State seeking more than $237 million in damages. The new complaint was filed in the U.S. District Court for the Eastern District of New York. It alleged that 31 durable medical retail equipment companies and 28 individuals, who allegedly owned one or more of these retail companies, and 16 durable medical wholesale companies and five individuals, who allegedly owned one or more of the wholesale companies, submitted or facilitated the submission of fraudulent and mis-leading bills and supporting documents to Allstate for reimbursement under New York's no-fault insurance law. Read More
---
View All
Legislative/Regulatory Developments

Steven A. Meyerowitz, ESQ.
Director, FC&S Legal

Victoria Prussen Spears, ESQ.
Associate Director, FC&S Legal

FC&S Legal Editorial Advisory Board

Mitchell J. Auslander, Willkie Farr & Gallagher LLP
Carrie Cope, Schuyler, Roche & Crisham, P.C.
Anjali C. Das, Wilson Elser
John F. Finnegan, Chadbourne & Parke LLP
Michele L. Jacobson, Stroock & Stroock & Lavan LLP
Timothy P. Law, Reed Smith LLP
Donald S. Malecki, Malecki, Deimling, Nielander & Associates, LLC
Cort T. Malone, Anderson Kill & Olick, P.C.
D. Milone, Kelley Drye & Warren LLP
Joseph P. Monteleone, Tressler LLP
Anne M. Murray, Rivkin Radler LLP
Jerold Oshinsky, Kasowitz, Benson, Torres & Friedman LLP
Seth B. Schafler, Proskauer Rose LLP
David D. Thamann, The National Underwriter Company
INDUSTRY NEWS
PCI Names Steve Norton Executive Communications Director
Read More
Berkshire Hathaway Specialty Insurance Names Dan Fortin to Lead Executive and Professional Lines Business
Read More
Zurich Appoints Mike Davies as Global Head of Marine Underwriting
Read More
NEW PRODUCTS
XL Group's Bermuda Professional Lines Unit Launches Wage and Hour Liability Insurance Coverage
Read More
PEOPLE
Aspen Re Appoints Tom Luning as Head of U.S. Regional Business Development
Read More

View All Industry News
---
CALENDAR
Montana Captive Insurance Association, Inc., 8th Annual Conference
Read More
2nd National Advanced Forum on Life Insurance and AD&D Claims and Litigation
Read More
NAIC Summer 2013 National Meeting
Read More

View Full Calendar
---
INSURANCE COVERAGE LAW REPORT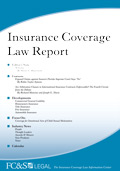 Focus On: Inadvertent Omission of Exclusion Created Only the Appearance of Coverage, Circuit Finds in Upholding Decision Overturning Jury Verdict in Insured's Favor
Read More
State Responses to Superstorm Sandy and Other Natural Disasters: Implications for Ceding Companies and their Reinsurers
Read More
Insurance Certificates and Evidence of Insurance for Lease Transactions
Read More

View Entire June Insurance Coverage Law Report
View Insurance Coverage Law Report Archives
---
CONTACT US:
Customer Service:
1-800-543-0874
Email:
customerservice@sbmedia.com