Industry news, expert analysis, and daily updates on the most significant insurance coverage legal developments—from the insurance and legal experts of The National Underwriter Company.


Exclusions
5th Circuit: Notice After Pollution Buy-Back Clause's 30 Day Deadline Dooms Coverage – Even in Absence of Prejudice
The U.S. Court of Appeals for the Fifth Circuit has affirmed a district court's decision that an insurer was not required to show prejudice before denying coverage for liability arising out of a pollution occurrence that the insured did not report within 30 days, as required by a pollution buy-back clause in the policy. In its decision, the circuit court found that the "clear notice requirement" in the "specific endorsement, separately negotiated by the parties," was "essential to the bargained-for coverage." Simply put, the circuit court decided, when the pollution endorsement was added, "the parties specifically inserted a 30–day reporting requirement" into the policy that trumped the policy's "as soon as practicable" notice provision.
Read More
Automobile Insurance
Driver's Alleged Assaults Did Not Arise Out of Ownership, Maintenance, or Use of Her Vehicle, Court Says
A federal district court in South Carolina has ruled that alleged assaults by a vehicle's driver did not arise out of the ownership, maintenance, or use of the driver's vehicle, and her auto insurer therefore did not have a duty to indemnify her.
Read More
Appraisal Rights
Court Denies Insurer's Motion to Stay Litigation so It Could Invoke Policy's Appraisal Clause
A federal district court in Massachusetts has refused to stay a lawsuit against an insurance company to that it could invoke the policy's appraisal clause, finding that a stay was not provided for by the policy and that it also would not serve the interests of justice or judicial economy.
Read More
Commercial General Liability
Appeals Court Says Trial Court Must Conduct a Conflicts Analysis in Coverage Action Stemming from "Unsolicited Faxes" Suit
Citing a potential conflict between Indiana and Illinois insurance coverage law, an appellate court in a declaratory judgment action filed in Illinois with respect to an "unsolicited faxes" case that also had been filed in Illinois has held that the trial court in the declaratory judgment action had to conduct a conflicts analysis to determine whether Illinois law or Indiana law governed the coverage dispute.
Read More
---
View All
Case Law Developments

In the States
N.Y.'s Top Court Allows State's Suit against Two Former AIG Executives to Proceed
The New York Court of Appeals, New York's highest court, has ruled that claims brought by the New York attorney general against two former officers of American International Group, Inc., had "sufficient support in the record" to withstand summary judgment, and could proceed to trial. Among other things, the court found that there was "evidence sufficient for trial that both [Maurice "Hank"] Greenberg and [Howard] Smith participated in a fraud," adding that the "credibility of their denials" was for a fact finder to decide.
Read More
Homeowner's Insurance
N.Y. Senator Schumer Criticizes Insurance Companies for "Abandoning" Homeowners after Superstorm Sandy
U.S. Senator Charles E. Schumer (D-NY) has criticized insurance companies for dropping Long Island homeowners' coverage after Superstorm Sandy, even on homes not damaged by the storm. Senator Schumer urged the Federal Emergency Management Agency to penalize the major insurance companies that have dropped policies on Long Island and other disaster-prone areas. In the case of insurance carriers who participate in FEMA's National Flood Insurance Program, FEMA should reduce their fees, or limit their participation on the program, Senator Schumer said. Read More
---
View All
Legislative/Regulatory Developments

Steven A. Meyerowitz, ESQ.
Director, FC&S Legal

Victoria Prussen Spears, ESQ.
Associate Director, FC&S Legal

FC&S Legal Editorial Advisory Board

Mitchell J. Auslander, Willkie Farr & Gallagher LLP
Carrie Cope, Schuyler, Roche & Crisham, P.C.
Anjali C. Das, Wilson Elser
John F. Finnegan, Chadbourne & Parke LLP
Michele L. Jacobson, Stroock & Stroock & Lavan LLP
Timothy P. Law, Reed Smith LLP
Donald S. Malecki, Malecki, Deimling, Nielander & Associates, LLC
Cort T. Malone, Anderson Kill & Olick, P.C.
D. Milone, Kelley Drye & Warren LLP
Joseph P. Monteleone, Tressler LLP
Anne M. Murray, Rivkin Radler LLP
Jerold Oshinsky, Kasowitz, Benson, Torres & Friedman LLP
Seth B. Schafler, Proskauer Rose LLP
David D. Thamann, The National Underwriter Company
INDUSTRY NEWS
Ralph Tortorella III Becomes Chief Legal and Compliance Officer for Berkshire Hathaway Specialty Insurance
Read More
Ironshore Appoints Joe Roberts as Chief Financial Officer
Read More
Sun Life Financial Still Awaiting N.Y. Approval to Sell U.S. Annuity and Life Businesses
Read More
NEW PRODUCTS
Acadia Insurance Partners with Berkley Life Sciences to Launch New Insurance Product
Read More
PEOPLE
Joseph V. Taranto to Remain as Chairman of Everest Re Group
Read More

View All Industry News
---
CALENDAR
HarrisMartin's Superstorm Sandy Insurance Coverage Litigation Conference
Read More
Asbestos Claims & Litigation
Read More
Montana Captive Insurance Association, Inc., 8th Annual Conference
Read More

View Full Calendar
---
INSURANCE COVERAGE LAW REPORT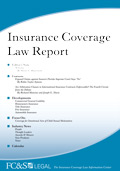 Focus On: Inadvertent Omission of Exclusion Created Only the Appearance of Coverage, Circuit Finds in Upholding Decision Overturning Jury Verdict in Insured's Favor
Read More
State Responses to Superstorm Sandy and Other Natural Disasters: Implications for Ceding Companies and their Reinsurers
Read More
Insurance Certificates and Evidence of Insurance for Lease Transactions
Read More

View Entire June Insurance Coverage Law Report
View Insurance Coverage Law Report Archives
---
CONTACT US:
Customer Service:
1-800-543-0874
Email:
customerservice@sbmedia.com