Industry news, expert analysis, and daily updates on the most significant insurance coverage legal developments—from the insurance and legal experts of The National Underwriter Company.


Commercial Property
Court Confirms that Tennessee Has No Common Law Cause of Action for Insurer Bad Faith
A federal district court in Tennessee has ruled that there is no common law cause of action for bad faith against an insurer in Tennessee. The court explained that the bad faith statutory penalty was the exclusive remedy in cases charging bad faith denials of insurance claims. The court observed that Chandler v. Prudential Ins. Co., 715 S.W.2d 615 (Tenn.Ct.App.1986), held that no common law cause of action for bad faith existed under Tennessee law, and that both state and federal courts had confirmed that Chandler was the law in Tennessee. SeeWestfield Ins. Co. v. RLP Partners (M.D.Tenn. May 30, 2013) (collecting cases); Bowery v. Berkshire Life Ins. Co. of America (E.D.Tenn. April 11, 2013); Leverette v. Tenn. Farmers Mut. Ins. Co. (Tenn.Ct.App. March 4, 2013). The case is Forest Oaks-Section II v. QBE Ins. Corp., No. 3–13–0158 (M.D. Tenn. June 17, 2013).
Read More
Excess
Excess Insurer Not Liable for Arbitration Award against Insured, Circuit Court Affirms
The U.S. Court of Appeals for the Ninth Circuit has affirmed a district court's decision rejecting an insured's contention that its excess insurer was obligated to indemnify it for an arbitration award. The case is Shy v. Insurance Company of the State of Penn., Nos. 11–56887, 11–56964 (9th Cir. June 18, 2013).
Read More
Environmental Liability
Chartis Settles Vermont's Claim for Coverage of Costs of Cleaning Up Contaminated Gas Station for $1.125 Million
The State of Vermont now has received $2 million for the costs of cleaning up a contaminated gas station located in New Haven, Vermont.
Read More
Employee Benefits
Court Upholds Insurer's Decision Denying AD&D Benefits where Insured Had 0.176 BAC and Tested Positive for Marijuana
A federal district court in Georgia has upheld an insurance carrier's decision denying accidental death and dismemberment benefits for an insured who died in a motorcycle accident, where the insured had a 0.176 gm/dL blood alcohol concentration and tested positive for marijuana. The court ruled that a "reasonable person" with the insured's education and experience riding a motorcycle on the road on which he crashed "would know the dangerous effects that alcohol and marijuana would have on the ability to ride downhill towards a curve." The case is Clark v. Life Ins. Co. of North Am., No. 1:12–cv–1977–TCB (N.D. Ga. June 18, 2013).
Read More
---
View All
Case Law Developments

In the States
Oregon Legislation Would Subject Insurers to More Regulatory Authority
The Oregon Senate has voted to give the Department of Consumer and Business Services authority to award restitution for policyholders. "Middle class families and small businesses need more avenues to hold insurance companies accountable for their harmful violations of consumer protection laws," said Senator Chip Shields (D-Portland), chair of the Senate Committee on General Government, Consumer and Small Business Protection. "Allowing consumers to seek restitution in the case of damages is a matter of basic fairness. SB 414A gives vulnerable Oregonians an avenue to seek relief from unlawful or harmful insurance practices through DCBS, and the legislature will look to DCBS to use the full force of their new authority to protect consumers."
Read More
Farm
Farm Bill Fails in House
The U.S. House of Representatives has defeated a major farm bill, with proposed cuts and changes to the food stamp program and crop insurance dividing Democrats and Republicans. Read More
---
View All
Legislative/Regulatory Developments

Steven A. Meyerowitz, ESQ.
Director, FC&S Legal

Victoria Prussen Spears, ESQ.
Associate Director, FC&S Legal

FC&S Legal Editorial Advisory Board

Mitchell J. Auslander, Willkie Farr & Gallagher LLP
Carrie Cope, Schuyler, Roche & Crisham, P.C.
Anjali C. Das, Wilson Elser
John F. Finnegan, Chadbourne & Parke LLP
Michele L. Jacobson, Stroock & Stroock & Lavan LLP
Timothy P. Law, Reed Smith LLP
Donald S. Malecki, Malecki, Deimling, Nielander & Associates, LLC
Cort T. Malone, Anderson Kill & Olick, P.C.
D. Milone, Kelley Drye & Warren LLP
Joseph P. Monteleone, Tressler LLP
Anne M. Murray, Rivkin Radler LLP
Jerold Oshinsky, Kasowitz, Benson, Torres & Friedman LLP
Seth B. Schafler, Proskauer Rose LLP
David D. Thamann, The National Underwriter Company
INDUSTRY NEWS
Coverage for Law Firm Victimized in Check Scam
Read More
Insurance Coverage for Internet Copyright Claims
Read More
AMA Finds that Patients Are Responsible for Nearly One-Quarter of Medical Bills as It Begins to Rank Health Insurers by Administrative Burden
Read More
NEW PRODUCTS
USA Business Insurance Offers Handyman General Liability Insurance for Sole Proprietors
Read More
PEOPLE
Nicholas Prettejohn to Retire from Brit Insurance Holdings
Read More

View All Industry News
---
CALENDAR
Employment Practices Liability Insurance
Read More
HarrisMartin's Superstorm Sandy Insurance Coverage Litigation Conference
Read More
Asbestos Claims & Litigation
Read More

View Full Calendar
---
INSURANCE COVERAGE LAW REPORT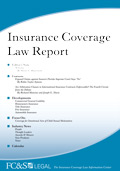 Focus On: Inadvertent Omission of Exclusion Created Only the Appearance of Coverage, Circuit Finds in Upholding Decision Overturning Jury Verdict in Insured's Favor
Read More
State Responses to Superstorm Sandy and Other Natural Disasters: Implications for Ceding Companies and their Reinsurers
Read More
Insurance Certificates and Evidence of Insurance for Lease Transactions
Read More

View Entire June Insurance Coverage Law Report
View Insurance Coverage Law Report Archives
---
CONTACT US:
Customer Service:
1-800-543-0874
Email:
customerservice@sbmedia.com