Industry news, expert analysis, and daily updates on the most significant insurance coverage legal developments—from the insurance and legal experts of The National Underwriter Company.


Homeowner's Insurance
Criminal Acts Exclusion Bars Coverage of Claims that Homeowners' Son Trespassed and Set Fires
A federal district court in Pennsylvania has ruled that a criminal acts exclusion in a homeowner's policy excluded coverage for claims in a complaint alleging that the insureds' son had trespassed on an association's property and set fires that damaged its property, even though the complaint only asserted claims for negligence. The court ruled that it was "the alleged behavior, not the label attached to it," that controlled. The case is Trustgard Ins. Co. v. Johnson, No. 12–2273 (E.D. Penn. June 12, 2013). Read More

Employee Benefits
Court Upholds Insurer's Decision Denying AD&D Benefits where Insured Had 0.176 BAC and Tested Positive for Marijuana
A federal district court in Georgia has upheld an insurance carrier's decision denying accidental death and dismemberment benefits for an insured who died in a motorcycle accident, where the insured had a 0.176 gm/dL blood alcohol concentration and tested positive for marijuana. The court ruled that a "reasonable person's with the insured's education and experience riding a motorcycle on the road on which he crashed "would know the dangerous effects that alcohol and marijuana would have on the ability to ride downhill towards a curve." The case is Clark v. Life Ins. Co. of North Am., No. 1:12–cv–1977–TCB (N.D. Ga. June 18, 2013). Read More
Alternative Risk and Captives
May Courts Allocate Defense Costs Between Insurer and Insured for Periods of Self-Insurance under New York Law? Question Remains Unanswered
The U.S. Court of Appeals for the Second Circuit has affirmed a district court's decision holding an insurer responsible for 100 percent of an insured's defense costs, including for periods of self-insurance, finding it unnecessary to decide whether allocation was permitted under New York law. The case is Olin Corp. v. Century Indemnity Co., No. 11–4579–cv (2d Cir. June 18, 2013). Read More

Homeowner's Insurance
Water Damage and Mold Claims Excluded from Coverage, Court Rules
A federal district court in Rhode Island has ruled that a homeowner's insurance policy excluded coverage for alleged water damage caused by below-grade water seeping through the home's foundation into the basement and for resulting mildew. The case is Emsbo v. Fireman's Fund Ins. Co., No. CA 11–192L (D.R.I. June 19, 2013). Read More

---
View All
Case Law Developments

Alternative Risk and Captives
Texas Captive Insurance Association Is Formed
Now that Texas Governor Rick Perry has signed into law a bill allowing captives in Texas, the Texas Captive Insurance Association has been formed to serve the captive insurance market in Texas.
Read More
In the States
American Fellowship Mutual Insurance Ordered into Liquidation
The American Fellowship Mutual Insurance Company has been ordered into liquidation by Ingham County, Michigan, Circuit Judge William Collette at the request of Michigan Department of Insurance and Financial Services Director Kevin Clinton, who was appointed liquidator. Read More
---
View All
Legislative/Regulatory Developments

Steven A. Meyerowitz, ESQ.
Director, FC&S Legal
Victoria Prussen Spears, ESQ.
Associate Director, FC&S Legal

FC&S Legal Editorial Advisory Board

Mitchell J. Auslander, Willkie Farr & Gallagher LLP
Carrie Cope, Schuyler, Roche & Crisham, P.C.
Anjali C. Das, Wilson Elser
John F. Finnegan, Chadbourne & Parke LLP
Michele L. Jacobson, Stroock & Stroock & Lavan LLP
Timothy P. Law, Reed Smith LLP
Donald S. Malecki, Malecki, Deimling, Nielander & Associates, LLC
Cort T. Malone, Anderson Kill & Olick, P.C.
D. Milone, Kelley Drye & Warren LLP
Joseph P. Monteleone, Tressler LLP
Anne M. Murray, Rivkin Radler LLP
Jerold Oshinsky, Kasowitz, Benson, Torres & Friedman LLP
Seth B. Schafler, Proskauer Rose LLP
David D. Thamann, The National Underwriter Company
INDUSTRY NEWS
Kansas Schools that Arm Employees May Lose Insurance Coverage
Read More
Is Defective Construction an "Occurrence"? The Answer Isn't So Concrete
Read More
A Typical Month at FC&S Legal
Read More
NEW PRODUCTS
ACE Launches New Railroad Insurance Unit; Appoints Catherine Whiddon to Lead Initiative
Read More
PEOPLE
Greig Woodring Elected Chairman of IIS Board of Directors
Read More

View All Industry News
---
CALENDAR
Employment Practices Liability Insurance
Read More
HarrisMartin's Superstorm Sandy Insurance Coverage Litigation Conference
Read More
Asbestos Claims & Litigation
Read More

View Full Calendar
---
INSURANCE COVERAGE LAW REPORT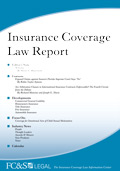 Focus On: Inadvertent Omission of Exclusion Created Only the Appearance of Coverage, Circuit Finds in Upholding Decision Overturning Jury Verdict in Insured's Favor
Read More
State Responses to Superstorm Sandy and Other Natural Disasters: Implications for Ceding Companies and their Reinsurers
Read More
Insurance Certificates and Evidence of Insurance for Lease Transactions
Read More

View Entire June Insurance Coverage Law Report
View Insurance Coverage Law Report Archives
---
CONTACT US:
Customer Service:
1-800-543-0874
Email:
customerservice@sbmedia.com