Industry news, expert analysis, and daily updates on the most significant insurance coverage legal developments—from the insurance and legal experts of The National Underwriter Company.


Homeowner's Insurance
2d Circuit Rejects Insureds' Contention that Adverse Inference Jury Instruction Had Been Improper
The U.S. Court of Appeals for the Second Circuit has affirmed a judgment entered on a jury's verdict in favor of an insurance carrier that denied the insureds indemnification under their insurance policy for the destruction of their barn by fire. The circuit court rejected the insureds' contention that the trial court had abused its discretion in authorizing the jury to draw an adverse inference against them by reason of their failure to make a disclosure demanded by the insurer during the pre-trial discovery proceedings. The case is Mali v. Federal Ins. Co., Nos. 11–5413–cv (Lead); 12–0174–cv (XAP) (2d Cir. June 13, 2013).
Read More
Worker's Compensation
Injuries Employee Allegedly Suffered while Driving to Pick up Paychecks On Her Off-Day Occurred in the Course of Her Employment, Court Finds
A court in Oregon has reversed a decision by the Oregon Workers' Compensation Board and ruled that injuries allegedly suffered by an employee while she was driving to pick up paychecks at her employer's office on an off-day occurred in the course of her employment. The case is Mendoza v. Liberty Northwest Ins. Corp., No. 1003257; A149463 (Oregon Ct. App. June 12, 2013).
Read More
Automobile Insurance
Health Care Services Lien Attaches to Underinsured Motorist Benefits, Illinois Appeals Court Rules
An appellate court in Illinois has ruled that a statutory health care services lien attached to underinsured motorist insurance benefits. The case is McRoberts v. Porter, No. 5–12–0017 (Ill. Ct. App. June 13, 2013).
Read More
Professional Liability Insurance
Appeals Court Rules that Accounting Malpractice Action Alleged a Single Claim under Firm's Policy
An appellate court in California has affirmed a trial court's decision that an underlying action against an accounting firm and a partner at the firm alleged a single claim under the applicable policy, thus triggering the per-claim limit of liability only and not the aggregate policy limit. The case is Flowers v. CAMICO Mutual Ins. Co., No. A134890 (Cal. Ct. App. June 12, 2013).
Read More
---
View All
Case Law Developments

Charges Filed
Two Executives at Dallas-Based Medical Insurance Company Charged in Alleged Ponzi Scheme
Two executives at a Dallas-based medical insurance company have been charged by the Securities and Exchange Commission and, in a parallel action, by the U.S. Attorney's Office for the Northern District of Texas with operating a $10 million Ponzi scheme that victimized at least 80 investors.
Read More
Farm
As Farm Bill Takes Shape, Fraud in Crop Insurance Program Becomes an Issue
The programs that make up the farm bill that currently is being considered by Congress include the food stamp program ($760 billion) and the crop insurance program ($9 billion). There is fraud in both, and Congress apparently is intent on reducing food stamp fraud. But the extent of fraud in the crop insurance program, and how that should be cut, appears to be developing as an issue in Washington. Read More
---
View All
Legislative/Regulatory Developments

Steven A. Meyerowitz, ESQ.
Director, FC&S Legal
Victoria Prussen Spears, ESQ.
Associate Director, FC&S Legal

FC&S Legal Editorial Advisory Board

Mitchell J. Auslander, Willkie Farr & Gallagher LLP
Carrie Cope, Schuyler, Roche & Crisham, P.C.
Anjali C. Das, Wilson Elser
John F. Finnegan, Chadbourne & Parke LLP
Michele L. Jacobson, Stroock & Stroock & Lavan LLP
Timothy P. Law, Reed Smith LLP
Donald S. Malecki, Malecki, Deimling, Nielander & Associates, LLC
Cort T. Malone, Anderson Kill & Olick, P.C.
D. Milone, Kelley Drye & Warren LLP
Joseph P. Monteleone, Tressler LLP
Anne M. Murray, Rivkin Radler LLP
Jerold Oshinsky, Kasowitz, Benson, Torres & Friedman LLP
Seth B. Schafler, Proskauer Rose LLP
David D. Thamann, The National Underwriter Company
INDUSTRY NEWS
Cyber Liability: Insurance Coverage under Traditional and New Cyber Policies, and the Risks to Corporate Boards
Read More
What's Organic Crop Insurance?
Read More
California Is Only State Where Auto Insurance Costs Less Now than 25 Years Ago, CFA Study Finds
Read More
NEW PRODUCTS
USA Business Insurance Announces Drywall Contractor Insurance Designed to Protect Smaller Sub-Contractors
Read More
PEOPLE
Citizens Property Insurance's CFO, Sharon Binnun, to Rejoin Private Sector
Read More

View All Industry News
---
CALENDAR
Employment Practices Liability Insurance
Read More
HarrisMartin's Superstorm Sandy Insurance Coverage Litigation Conference
Read More
Asbestos Claims & Litigation
Read More

View Full Calendar
---
INSURANCE COVERAGE LAW REPORT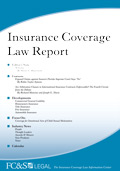 Focus On: Inadvertent Omission of Exclusion Created Only the Appearance of Coverage, Circuit Finds in Upholding Decision Overturning Jury Verdict in Insured's Favor
Read More
State Responses to Superstorm Sandy and Other Natural Disasters: Implications for Ceding Companies and their Reinsurers
Read More
Insurance Certificates and Evidence of Insurance for Lease Transactions
Read More

View Entire June Insurance Coverage Law Report
View Insurance Coverage Law Report Archives
---
CONTACT US:
Customer Service:
1-800-543-0874
Email:
customerservice@sbmedia.com