Industry news, expert analysis, and daily updates on the most significant insurance coverage legal developments—from the insurance and legal experts of The National Underwriter Company.


Life Insurance
Methamphetamine Was Not a Narcotic for Purposes of Life Insurance Policy's Exclusion, South Carolina Supreme Court Decides
The Supreme Court of South Carolina has ruled that methamphetamine was not a narcotic within the meaning of an exclusion in a mortgage life insurance policy. The court found that methamphetamine was not commonly understood to be a narcotic based upon its "widespread illegal use," and the exclusion therefore did not bar coverage. The case is Hutchinson v. Liberty Life Ins. Co., No. 27264 (S.C. June 12, 2013). Read More

Automobile Insurance
In Its Third Decision in a Bad Faith Case, South Dakota Supreme Court Orders a Third Jury Trial
The South Dakota Supreme Court, in a third decision in a bad faith case against an insurance company, has ordered a third jury trial. The case is Bertelsen v. Allstate Ins. Co., No. 26442 (S.D. June 12, 2013). Read More
Fire Insurance
North Carolina Supreme Court, Adopting Restatement's "Comment G," Finds that Insurer Did Not Institute Malicious Prosecution by Providing Information about Its Insured to the Police
The North Carolina Supreme Court, adopting Comment G to Section 653 of the Restatement (Second) of Torts, has ruled that an insurer that provided information about its insured to a police sergeant, which led to the insured's arrest, had not instituted a malicious prosecution and its actions did not constitute an unfair and deceptive practice because the sergeant had "independently exercised his discretion to make the prosecution his own." In the court's view, Comment G allowed citizens to make reports in good faith to police and prosecutors without fear of retaliation if the information proved to be incomplete or inaccurate; if the information was false, it protected a reporting party who believed it was true, "thus preserving the element of malice both to deter those who would subvert to their own ends the power held by police and prosecutors" and to protect citizens from one who resorted "to the process of the law without probable cause, willfully and maliciously, for the purpose of injuring his neighbor." Moreover, the court continued, Comment G encouraged independent investigation by those in law enforcement who received the information. The case is North Carolina Farm Bureau Mutual Ins. Co. v. Cully's Motorcross Park, Inc., No. 243PA12 (N.C. June 13, 2013). Read More

Automobile Insurance
Body Shop Worker Allegedly Injured while Touching Customer's Car May Not Recover PIP Benefits Under Customer's No-Fault Policy
A Delaware trial court has ruled that an auto body shop worker was not entitled to avail himself of a customer&rq s no-fault automobile insurance benefits for injuries the worker allegedly suffered while repairing the customer's car. The court found that there was no "accident" involving a motor vehicle for purposes of the no-fault law, and that the policy did not provide coverage in excess of that required by the statute. The case is Sierra v. Allstate Property and Casualty Ins. Co., C.A. No. N12C–07–1921 JAP (De. Super. Ct. June 12, 2013). Read More

---
View All
Case Law Developments

In the States
State Insurance Regulators Work on Long Term Care Insurance
The National Association of Insurance Commissioners has concluded an interim meeting on long term care insurance regulatory developments.
Read More
Insurance Fraud
Sink Boat. Seek Insurance. Go to Prison
Scott Tran has been sentenced to 46 months in prison for organizing a plot to sink his fishing boat off the coast of Cape May, New Jersey, to collect $400,000 from an insurance company. Read More
---
View All
Legislative/Regulatory Developments

Steven A. Meyerowitz, ESQ.
Director, FC&S Legal
Victoria Prussen Spears, ESQ.
Associate Director, FC&S Legal

FC&S Legal Editorial Advisory Board

Mitchell J. Auslander, Willkie Farr & Gallagher LLP
Carrie Cope, Schuyler, Roche & Crisham, P.C.
Anjali C. Das, Wilson Elser
John F. Finnegan, Chadbourne & Parke LLP
Michele L. Jacobson, Stroock & Stroock & Lavan LLP
Timothy P. Law, Reed Smith LLP
Donald S. Malecki, Malecki, Deimling, Nielander & Associates, LLC
Cort T. Malone, Anderson Kill & Olick, P.C.
D. Milone, Kelley Drye & Warren LLP
Joseph P. Monteleone, Tressler LLP
Anne M. Murray, Rivkin Radler LLP
Jerold Oshinsky, Kasowitz, Benson, Torres & Friedman LLP
Seth B. Schafler, Proskauer Rose LLP
David D. Thamann, The National Underwriter Company
INDUSTRY NEWS
Prudential Chairman and CEO John Strangfeld Elected Co-Chair of NJPAC Board of Directors
Read More
California Is Only State Where Auto Insurance Costs Less Now than 25 Years Ago, CFA Study Finds
Read More
Sompo Japan Completes Acquisition of Additional Shares of Brazil's Martima Seguros
Read More
NEW PRODUCTS
Berkshire Hathaway Introduces Berkshire Hathaway Specialty Insurance
Read More
PEOPLE
Dr. Kathleen Hittner Nominated as Rhode Island Health Insurance Commissioner
Read More

View All Industry News
---
CALENDAR
Employment Practices Liability Insurance
Read More
HarrisMartin's Superstorm Sandy Insurance Coverage Litigation Conference
Read More
Asbestos Claims & Litigation
Read More

View Full Calendar
---
INSURANCE COVERAGE LAW REPORT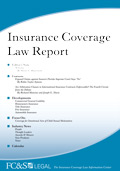 Focus On: Inadvertent Omission of Exclusion Created Only the Appearance of Coverage, Circuit Finds in Upholding Decision Overturning Jury Verdict in Insured's Favor
Read More
State Responses to Superstorm Sandy and Other Natural Disasters: Implications for Ceding Companies and their Reinsurers
Read More
Insurance Certificates and Evidence of Insurance for Lease Transactions
Read More

View Entire June Insurance Coverage Law Report
View Insurance Coverage Law Report Archives
---
CONTACT US:
Customer Service:
1-800-543-0874
Email:
customerservice@sbmedia.com