Industry news, expert analysis, and daily updates on the most significant insurance coverage legal developments—from the insurance and legal experts of The National Underwriter Company.


Professional Liability Insurance
Appeals Court Rules that Accounting Malpractice Action Alleged a Single Claim under Firm's Policy
An appellate court in California has affirmed a trial court's decision that an underlying action against an accounting firm and a partner at the firm alleged a single claim under the applicable policy, thus triggering the per-claim limit of liability only and not the aggregate policy limit. The case is Flowers v. CAMICO Mutual Ins. Co., No. A134890 (Cal. Ct. App. June 12, 2013). Read More

Automobile Insurance
Finding that Insured Held a Third Party Claim, West Virginia Supreme Court Upholds Dismissal of Her Bad Faith Suit
The Supreme Court of Appeals of West Virginia has ruled that an insured's bad faith lawsuit had been properly dismissed because the insured was asserting a third party claim and state law did not permit third party bad faith suits. The Case: Patricia Salmons alleged that her car, which was insured by State Farm Mutual Automobile Insurance Company, was parked when it was hit by another car that also was insured by State Farm. Ms. Salmons ultimately sued State Farm and its claims representative, contending that they had committed first party common law bad faith and had violated the Unfair Trade Practices Act in the handling of her insurance claim. The trial court concluded that Ms. Salmons was a third party claimant, not a first party claimant, and therefore that she could not sue for bad faith. Ms. Salmons argued to the Supreme Court of Appeals of West Virginia that because she also was insured by State Farm under her own automobile policy, her first party rights had attached as soon as she had reported her loss to her insurance agent. Read More
Professional Liability Insurance
Retention of Profits May Impact Insurance Coverage for Disgorgement Payments to the SEC
NIn an opinion by Judge Graffeo, the New York State Court of Appeals unanimously reversed the dismissal of an insured's coverage claims relating to monetary payments made by Bear Stearns & Co. Inc. ("Bear Stearns") to the United States Securities and Exchange Commission ("SEC") in connection with the settlement of claimed violations of the federal securities laws. The Court found that the retention of profits from the illegal acts that lead to a disgorgement penalty may be a factor that impacts the enforceability of professional liability insurance coverage in New York. Read More

Alleged Sexual Assault
Nevada Federal Court Finds No Coverage for Molestation Allegations
Judge James Mahan of the U.S. District Court in Las Vegas, Nevada, has granted Discover Property and Casualty Insurance Company's Motion for Summary Judgment, finding that the allegations against the defendant of sexually assaulting a 12 year old boy did not trigger the insurer's duty to defend or indemnify under a general liability policy. The ruling was supported on three different grounds: (1) the injuries were not the result of an "occurrence", meaning an accident; (2) coverage was barred pursuant to the "intentional act" exclusion; and (3) the "abuse and molestation" exclusion in the general liability policy applied. Read More

---
View All
Case Law Developments

Alternative Risk and Captives
NAIC Has Been "Incredibly Active" on Insurers' Use of Captives, It Tells FC&S Legal
The New York State Department of Financial Services is not the only entity that has been looking into insurers' use of captives. The National Association of Insurance Commissioners told FC&S Legal today that it has been "incredibly active on the issue.
Read More
Alternative Risk and Captives
American Council of Life Insurers "Supports National Adoption of Proposals to Enhance Disclosure" of Life Insurers' Reinsurance Transactions
On the heels of the report on "shadow insurance" by the New York Department Of Financial Services, the American Council of Life Insurers, a Washington, D.C.-based trade association with more than 300 member companies operating in the United States and abroad, has issued a statement. Read More
---
View All
Legislative/Regulatory Developments

Steven A. Meyerowitz, ESQ.
Director, FC&S Legal
Victoria Prussen Spears, ESQ.
Associate Director, FC&S Legal

FC&S Legal Editorial Advisory Board

Mitchell J. Auslander, Willkie Farr & Gallagher LLP
Carrie Cope, Schuyler, Roche & Crisham, P.C.
Anjali C. Das, Wilson Elser
John F. Finnegan, Chadbourne & Parke LLP
Michele L. Jacobson, Stroock & Stroock & Lavan LLP
Timothy P. Law, Reed Smith LLP
Donald S. Malecki, Malecki, Deimling, Nielander & Associates, LLC
Cort T. Malone, Anderson Kill & Olick, P.C.
D. Milone, Kelley Drye & Warren LLP
Joseph P. Monteleone, Tressler LLP
Anne M. Murray, Rivkin Radler LLP
Jerold Oshinsky, Kasowitz, Benson, Torres & Friedman LLP
Seth B. Schafler, Proskauer Rose LLP
David D. Thamann, The National Underwriter Company
INDUSTRY NEWS
10 Popular Vacation Destinations: How They Rank by Crash Risk
Read More
SIIA Announces Latest Major Financial Contribution to its Legal Defense Fund
Read More
Hiscox Adds Crime and Data Breach and Privacy Options to Hiscox Professional Liability Portfolio
Read More
NEW PRODUCTS
Zurich Announces Agreement with Aon Affinity to Offer Coverage to Nonprofit Long Term Care Groups
Read More
PEOPLE
Marsh Forms New Lenders Solutions Group
Read More

View All Industry News
---
CALENDAR
Employment Practices Liability Insurance
Read More
HarrisMartin's Superstorm Sandy Insurance Coverage Litigation Conference
Read More
Asbestos Claims & Litigation
Read More

View Full Calendar
---
INSURANCE COVERAGE LAW REPORT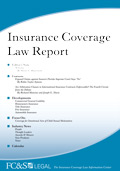 Focus On: Inadvertent Omission of Exclusion Created Only the Appearance of Coverage, Circuit Finds in Upholding Decision Overturning Jury Verdict in Insured's Favor
Read More
State Responses to Superstorm Sandy and Other Natural Disasters: Implications for Ceding Companies and their Reinsurers
Read More
Insurance Certificates and Evidence of Insurance for Lease Transactions
Read More

View Entire June Insurance Coverage Law Report
View Insurance Coverage Law Report Archives
---
CONTACT US:
Customer Service:
1-800-543-0874
Email:
customerservice@sbmedia.com