Industry news, expert analysis, and daily updates on the most significant insurance coverage legal developments—from the insurance and legal experts of The National Underwriter Company.


Health Insurance
U.S. Supreme Court Rejects Court Challenge to Arbitrator's Decision that Doctor's Contract with Insurer Provided for Class Arbitration of Disputes
In a unanimous decision, the U.S. Supreme Court has ruled that courts could not overturn a decision by an arbitrator that a contract between a physician and a health insurer provided for class arbitration of disputes. The case is Oxford Health Plans LLC v. Sutter, No. 12–135 (U.S. June 10, 2013). Read More

Commercial General Liability
Circuit Court Finds Exclusion Did Not Bar Coverage for Claim Alleging Injury to Subcontractor's Employee before Parties Signed a Contract
The U.S. Court of Appeals for the Seventh Circuit, reversing a district court decision, has ruled that a claim by an employee of a subcontractor who alleged that he had been injured after demonstrating his services to the general contractor at a construction site – but before the subcontractor and general contractor had signed a contract or the subcontractor was providing compensable services – was not excluded from coverage under an insurer's commercial general liability insurance policy. The case is Atlantic Casualty Ins. Co. v. Paszko Masonry, Inc., Nos. 12–2405, 12–2485 (7th Cir. June 7, 2013). Read More
Automobile Insurance
Florida Court Rejects Jury's Award of Future Earning Capacity to Insured
A federal district court in Florida has granted an insurer's motion for a directed verdict on the issue of future earnings capacity. The case is Lagalante v. State Farm Mutual Automobile Ins. Co., No. 11–80610–CIV (S.D. Fla. June 5, 2013). Read More

Homeowner's Insurance
Appellate Court Affirms Ruling for Insurer Based on Late Notice, Even Where Trial Court Had Not Reached Prejudice Issue
An appellate court in Florida has affirmed a trial court's decision in favor of an insurer on the basis of late notice, even though the trial court had not reached the issue of prejudice to the insurer. Examining the record, the appellate court found that the insured had not met his burden to provide sufficient evidence to overcome the presumption of prejudice as a result of the late notice. The case is Hope v. Citizens Property Ins. Corp., No. 3D11–3147 (Fla. Ct. App. June 5, 2013). Read More

---
View All
Case Law Developments

Life Insurance
11 Insurers to Pay $763 Million to Settle State Claims over Unpaid Life Insurance Benefits
Eleven life insurance companies – Transamerica, New York Life, Western & Southern, Pacific Life, Genworth, Hartford, ING, Symetra, Northwest Mutual, Sammons (Midland and North American), and TIAA–CREF – have reached settlements with a number of U.S. states over unpaid life insurance benefits.
Read More
In the States
NAIC Report Includes Statistics on State Insurance Department Resources and Regulatory Activities
The National Association of Insurance Commissioners has released the first volume of the 26th edition of the Insurance Department Resources Report, which contains information, by state, on the number of departmental staff and their functions, annual budgets, revenue flows, the number of insurers and insurance producers, and the number of consumer inquiries and complaints. Read More
---
View All
Legislative/Regulatory Developments

Steven A. Meyerowitz, ESQ.
Director, FC&S Legal
Victoria Prussen Spears, ESQ.
Associate Director, FC&S Legal

FC&S Legal Editorial Advisory Board

Mitchell J. Auslander, Willkie Farr & Gallagher LLP
Carrie Cope, Schuyler, Roche & Crisham, P.C.
Anjali C. Das, Wilson Elser
John F. Finnegan, Chadbourne & Parke LLP
Michele L. Jacobson, Stroock & Stroock & Lavan LLP
Timothy P. Law, Reed Smith LLP
Donald S. Malecki, Malecki, Deimling, Nielander & Associates, LLC
Cort T. Malone, Anderson Kill & Olick, P.C.
D. Milone, Kelley Drye & Warren LLP
Joseph P. Monteleone, Tressler LLP
Anne M. Murray, Rivkin Radler LLP
Jerold Oshinsky, Kasowitz, Benson, Torres & Friedman LLP
Seth B. Schafler, Proskauer Rose LLP
David D. Thamann, The National Underwriter Company
INDUSTRY NEWS
Sheila Small Named Executive Director of New Jersey Captive Insurance Association
Read More
Munich Re America Appoints Carsten Prussog as President of Its Specialty Markets Division
Read More
California Supreme Court Expands Fraud Exception to the Parol Evidence Rule, Eliminating Significant Barrier to Claims of Promissory Fraud against Insurers
Read More
NEW PRODUCTS
Genworth Launches Its First Index Universal Life Insurance Product
Read More
PEOPLE
Kramer Levin Expands Insurance Practice Group in New York
Read More

View All Industry News
---
CALENDAR
Employment Practices Liability Insurance
Read More
HarrisMartin's Superstorm Sandy Insurance Coverage Litigation Conference
Read More
Asbestos Claims & Litigation
Read More

View Full Calendar
---
INSURANCE COVERAGE LAW REPORT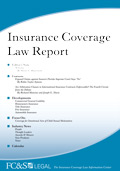 Focus On: Inadvertent Omission of Exclusion Created Only the Appearance of Coverage, Circuit Finds in Upholding Decision Overturning Jury Verdict in Insured's Favor
Read More
State Responses to Superstorm Sandy and Other Natural Disasters: Implications for Ceding Companies and their Reinsurers
Read More
Insurance Certificates and Evidence of Insurance for Lease Transactions
Read More

View Entire June Insurance Coverage Law Report
View Insurance Coverage Law Report Archives
---
CONTACT US:
Customer Service:
1-800-543-0874
Email:
customerservice@sbmedia.com