Industry news, expert analysis, and daily updates on the most significant insurance coverage legal developments—from the insurance and legal experts of The National Underwriter Company.


Personal Lines
Sellers' Alleged Failure to Disclose Condition of Home Did Not Cause "Property Damage," Circuit Rules
The U.S. Court of Appeals for the Eighth Circuit has affirmed a district court's decision in favor of an insurer, ruling that alleged misrepresentations by its insureds in connection with the sale of their home did not cause "property damage" under the insureds' personal liability insurance policy. The case is Payne v. Grinnell Mutual Reinsurance Co., No. 12–2243 (8th Cir. June 6, 2013). Read More

Homeowner's Insurance
Loss of Investment and Emotional Distress Claims Did Not Constitute "Bodily Injury" or "Property Damage," Maine's Top Court Holds
The Supreme Judicial Court of Maine has ruled that a homeowner's insurance policy did not cover the damages allegedly suffered by underlying plaintiffs as a result of purchasing property from the insured, including for loss of investment and emotional distress, because those alleged damages did not constitute covered "bodily injury" or "property damage" pursuant to the policy. The case is Langevin v. Allstate Ins. Co., No. CUM–12–140 (Maine June 4, 2013). Read More
Worker's Compensation
New Mexico Supreme Court Rules Undocumented Workers Entitled to Benefits Where Employer Failed to Follow Federal Hiring Rules
The New Mexico Supreme Court has held that employers that cannot demonstrate good faith compliance with federal law in the hiring process cannot use the undocumented status of their workers as a defense to payment of modifier benefits under the New Mexico Workers' Compensation Act. In particular, it ruled that an employer that did not properly fill out an I–9 Form and demand necessary documentation, as required, either should have known or was deemed to have known that the worker would likely be undocumented and ineligible for rehire in the event of injury. Read More

Excess
"Payment of Losses," Not Merely "Accrual of Liability," Required to Trigger Excess Coverage, Second Circuit Holds
The U.S. Court of Appeals for the Second Circuit has ruled that the "plain language" of excess insurance policies required the "payment of losses" — not merely the accrual of liability — to trigger the excess coverage. Read More

---
View All
Case Law Developments

Personal Auto
NY Bill Targets Young Drivers Who Text or Use Handheld Phones
New York' legislature has overwhelmingly passed legislation that would require licenses of young drivers to be suspended for at least 60 days for driving while texting or using a handheld phone.
Read More
Worker's Compensation
Pennsylvania Certifies 149 Lawyers as Workers' Compensation Law Specialists
The Pennsylvania Bar Association's Workers' Compensation Law Section has certified 149 lawyers as specialists in that area of legal practice. The newly certified specialists passed the March 8 certification exam, the first administered following Pennsylvania Supreme Court approval of the PBA section as a certifying organization. The passage rate was 96.2 percent. Certified applicants are permitted to use the following language when communicating their certifications to the public: "Certified as a specialist in the practice of workers' compensation law by the Pennsylvania Bar Association's Section on Workers' Compensation Law as authorized by the Pennsylvania Supreme Court." A lawyer successfully completing the exam is certified for five years. Read More
---
View All
Legislative/Regulatory Developments

Steven A. Meyerowitz, ESQ.
Director, FC&S Legal
Victoria Prussen Spears, ESQ.
Associate Director, FC&S Legal

FC&S Legal Editorial Advisory Board

Mitchell J. Auslander, Willkie Farr & Gallagher LLP
Carrie Cope, Schuyler, Roche & Crisham, P.C.
Anjali C. Das, Wilson Elser
John F. Finnegan, Chadbourne & Parke LLP
Michele L. Jacobson, Stroock & Stroock & Lavan LLP
Timothy P. Law, Reed Smith LLP
Donald S. Malecki, Malecki, Deimling, Nielander & Associates, LLC
Cort T. Malone, Anderson Kill & Olick, P.C.
D. Milone, Kelley Drye & Warren LLP
Joseph P. Monteleone, Tressler LLP
Anne M. Murray, Rivkin Radler LLP
Jerold Oshinsky, Kasowitz, Benson, Torres & Friedman LLP
Seth B. Schafler, Proskauer Rose LLP
David D. Thamann, The National Underwriter Company
INDUSTRY NEWS
State Responses to Superstorm Sandy and Other Natural Disasters: Implications for Ceding Companies and their Reinsurers
Read More
Allstate Appoints New Head of Texas Operations
Read More
Enstar Group to Acquire Atrium Underwriting Group and Arden Reinsurance
Read More
NEW PRODUCTS
XL Group Extends Umbrella and Excess Liability Coverages to Upper Middle Market Businesses
Read More
PEOPLE
Ben Rubin Named EVP for Capital Markets at AXIS Re
Read More

View All Industry News
---
CALENDAR
Employment Practices Liability Insurance
Read More
HarrisMartin's Superstorm Sandy Insurance Coverage Litigation Conference
Read More
Asbestos Claims & Litigation
Read More

View Full Calendar
---
INSURANCE COVERAGE LAW REPORT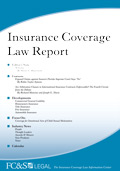 Focus On: Inadvertent Omission of Exclusion Created Only the Appearance of Coverage, Circuit Finds in Upholding Decision Overturning Jury Verdict in Insured's Favor
Read More
State Responses to Superstorm Sandy and Other Natural Disasters: Implications for Ceding Companies and their Reinsurers
Read More
Insurance Certificates and Evidence of Insurance for Lease Transactions
Read More

View Entire June Insurance Coverage Law Report
View Insurance Coverage Law Report Archives
---
CONTACT US:
Customer Service:
1-800-543-0874
Email:
customerservice@sbmedia.com