Industry news, expert analysis, and daily updates on the most significant insurance coverage legal developments—from the insurance and legal experts of The National Underwriter Company.


Exclusions
Suicide Exclusion in Accidental Death Policy Did Not Violate State Law, Court Rules
A federal district court in North Carolina has ruled that a suicide exclusion in an accidental death insurance policy did not violate a state law limiting suicide exclusions in life insurance policies. Read More

Excess
"Payment of Losses," Not Merely "Accrual of Liability," Required to Trigger Excess Coverage, Second Circuit Holds
The U.S. Court of Appeals for the Second Circuit has ruled that the "plain language" of excess insurance policies required the "payment of losses" – not merely the accrual of liability – to trigger the excess coverage. Read More
Commercial General Liability
Connecticut Supreme Court Answers 3 Certified Questions in Construction Coverage Case
In response to certified questions, the Connecticut Supreme Court has held: (1) allegations of unintended defective construction work by a subcontractor that damages nondefective property may constitute an "occurrence" resulting in "property damage" under certain circumstances; however, defective work standing alone or repairs to that defective work do not constitute property damage and, therefore, are not covered under the commercial general liability ("CGL") insurance policy at issue, and work by a contractor, as opposed to a subcontractor, is excluded from coverage under the terms of the policy; (2) under the CGL insurance policy at issue, it would not recognize a cause of action based on the insurer's failure to conduct a discretionary investigation of claims for coverage; and (3) in global settlements encompassing multiple claims, the insured has the burden of proving that the settlement is reasonable in proportion to claims that, considered independently, the insurer had a duty to defend. Read More

Employee Benefits
U.S. Supreme Court: Federal Insurance Law Preempts Virginia Law Providing that Divorce Decree Automatically Revokes Insured's Prior Designation of Spouse as Beneficiary
The U.S. Supreme Court has ruled that the Federal Employees' Group Life Insurance Act of 1954 preempted a Virginia law that addressed the situation in which an employee's marital status has changed, but the employee did not update his or her beneficiary designation before dying, by rendering a former spouse liable for insurance proceeds to whoever would have received them under applicable law but for the beneficiary designation. The decision is likely to have significant practical implications: the total amount of FEGLI insurance coverage in force, in 2010, was $824 billion. Read More

---
View All
Case Law Developments

Employee Benefits
NY Urges 15 Health Insurance Plans to Implement Pharmacy Exemption Rules
New York Attorney General Eric T. Schneiderman has sent letters to 15 New York-based health insurance plans urging them to change their policies to permit certain members to purchase specialty drug prescriptions at retail pharmacies instead of through mandatory mail order services.
Read More
Dodd-Frank
AIG and Prudential Financial Acknowledge Receiving "SIFI" Notifications
The Financial Stability Oversight Council has decided that a number of non-banks, including American International Group, Inc., and Prudential Financial, Inc., should be designated as systemically important financial institutions subject to the authority of the Federal Reserve under Dodd-Frank. Read More
---
View All
Legislative/Regulatory Developments

Steven A. Meyerowitz, ESQ.
Director, FC&S Legal
Victoria Prussen Spears, ESQ.
Associate Director, FC&S Legal

FC&S Legal Editorial Advisory Board

Mitchell J. Auslander, Willkie Farr & Gallagher LLP
Carrie Cope, Schuyler, Roche & Crisham, P.C.
Anjali C. Das, Wilson Elser
John F. Finnegan, Chadbourne & Parke LLP
Michele L. Jacobson, Stroock & Stroock & Lavan LLP
Timothy P. Law, Reed Smith LLP
Donald S. Malecki, Malecki, Deimling, Nielander & Associates, LLC
Cort T. Malone, Anderson Kill & Olick, P.C.
D. Milone, Kelley Drye & Warren LLP
Joseph P. Monteleone, Tressler LLP
Anne M. Murray, Rivkin Radler LLP
Jerold Oshinsky, Kasowitz, Benson, Torres & Friedman LLP
Seth B. Schafler, Proskauer Rose LLP
David D. Thamann, The National Underwriter Company
INDUSTRY NEWS
SCOR to Acquire Generali U.S.
Read More
Vanliner Moves Forward with Another Group Captive
Read More
"Additional Insured" Coverage in Construction Defect Claims
Read More
NEW PRODUCTS
Genworth Launches Its First Index Universal Life Insurance Product
Read More
PEOPLE
Former U.S. Federal Reserve Insurance Counsel Frank Alerte Joins Colodny Fass
Read More

View All Industry News
---
CALENDAR
Employment Practices Liability Insurance
Read More
HarrisMartin's Superstorm Sandy Insurance Coverage Litigation Conference
Read More
Asbestos Claims & Litigation
Read More

View Full Calendar
---
INSURANCE COVERAGE LAW REPORT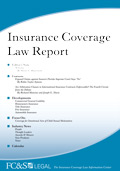 Focus On: Inadvertent Omission of Exclusion Created Only the Appearance of Coverage, Circuit Finds in Upholding Decision Overturning Jury Verdict in Insured's Favor
Read More
State Responses to Superstorm Sandy and Other Natural Disasters: Implications for Ceding Companies and their Reinsurers
Read More
Insurance Certificates and Evidence of Insurance for Lease Transactions
Read More

View Entire June Insurance Coverage Law Report
View Insurance Coverage Law Report Archives
---
CONTACT US:
Customer Service:
1-800-543-0874
Email:
customerservice@sbmedia.com