Industry news, expert analysis, and daily updates on the most significant insurance coverage legal developments—from the insurance and legal experts of The National Underwriter Company.


Exclusions
Minnesota Supreme Court: Carbon Monoxide Released in a Home from a Boiler is a Pollutant
The Minnesota Supreme Court has ruled that, under the absolute pollution exclusion, carbon monoxide released in a home by a negligently installed boiler is a pollutant. The court rejected the argument that the definition of "pollutants" was ambiguous in the context of this case. Applying the "plain-meaning approach," it held that carbon monoxide released from a negligently installed boiler clearly was a "pollutant" that was subject to the absolute pollution exclusion. Read More

Commercial Auto
Missouri Supreme Court: No UM Coverage for Passive Passenger in Van
The Missouri Supreme Court has ruled that a passive passenger in a daycare provider's van was not an insured under the uninsured motorist insurance provisions of the daycare provider's insurance policy. Read More
Automobile Insurance
Mississippi Supreme Court: Insurance Agents Must Obtain a "Knowing and Intelligent" Waiver of Uninsured-Motorist Coverage
The Mississippi Supreme Court has ruled that insurance agents must obtain a knowing and intelligent waiver of uninsured-motorist insurance coverage and must obtain that waiver in writing for it to be effective. It also has decided that a provision signed by an insured that purportedly waived UM coverage could be considered as evidence of whether the insured gave a knowing and intelligent waiver, but that the existence of the document was not outcome-determinative. Read More

Attorney's Fees
Massachusetts Supreme Judicial Court: Insurer Insolvency Fund Liable for Attorney's Fees to Prevailing Plaintiff in Consumer Action
The Massachusetts Supreme Judicial Court has ruled that where a plaintiff prevailed in a consumer action against the Massachusetts Insurers Insolvency Fund under Massachusetts General Laws c. 93A, § 9(1), the insolvency fund was liable for reasonable attorney's fees. The decision follows its ruling in Wheatley v. Massachusetts Insurers Insolvency Fund, 456 Mass. 594, 925 N.E.2d 9 (2010), that the insolvency fund was subject "to consumer actions brought pursuant to G.L. c. 93A, § 9(1)." Read More

---
View All
Case Law Developments

Life Insurance
Texas Is First State to Adopt Medicaid Life Settlement Legislation
The Texas legislature has passed legislation to establish the nation's first Medicaid Life Settlement law. Under the legislation, Texas seniors who are about to apply for Medicaid would have the ability to sell their life insurance policies for as much as 10 times more than the cash surrender value and apply those proceeds toward their long term care.
Read More
Life Insurance
Unclaimed Life Insurance Benefits Bill Signed into Law in Vermont
Vermont Governor Peter Shumlin has signed into law a bill that will require life insurance companies to make a good faith effort to contact beneficiaries when a policyholder has died. The Vermont law is based on model legislation developed by the National Council of Insurance Legislators. Read More
---
View All
Legislative/Regulatory Developments

Steven A. Meyerowitz, ESQ.
Director, FC&S Legal
Victoria Prussen Spears, ESQ.
Associate Director, FC&S Legal

FC&S Legal Editorial Advisory Board

Mitchell J. Auslander, Willkie Farr & Gallagher LLP
Carrie Cope, Schuyler, Roche & Crisham, P.C.
Anjali C. Das, Wilson Elser
John F. Finnegan, Chadbourne & Parke LLP
Michele L. Jacobson, Stroock & Stroock & Lavan LLP
Timothy P. Law, Reed Smith LLP
Donald S. Malecki, Malecki, Deimling, Nielander & Associates, LLC
Cort T. Malone, Anderson Kill & Olick, P.C.
D. Milone, Kelley Drye & Warren LLP
Joseph P. Monteleone, Tressler LLP
Anne M. Murray, Rivkin Radler LLP
Jerold Oshinsky, Kasowitz, Benson, Torres & Friedman LLP
Seth B. Schafler, Proskauer Rose LLP
David D. Thamann, The National Underwriter Company
INDUSTRY NEWS
New Director for Troy University's Risk Management Insurance Program
Read More
HCC Insurance Launches Construction Property Risks Division
Read More
As Hurricanes Loom, Florida Insurance Lives on Borrowed Time, Report Says
Read More
NEW PRODUCTS
Travelers Enhances Public Entity Management Liability Policy
Read More
PEOPLE
Former U.S. Federal Reserve Insurance Counsel Frank Alerte Joins Colodny Fass
Read More

View All Industry News
---
CALENDAR
Employment Practices Liability Insurance
Read More
HarrisMartin's Superstorm Sandy Insurance Coverage Litigation Conference
Read More
Asbestos Claims & Litigation
Read More

View Full Calendar
---
INSURANCE COVERAGE LAW REPORT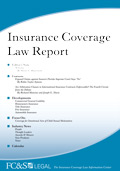 Focus On: Inadvertent Omission of Exclusion Created Only the Appearance of Coverage, Circuit Finds in Upholding Decision Overturning Jury Verdict in Insured's Favor
Read More
State Responses to Superstorm Sandy and Other Natural Disasters: Implications for Ceding Companies and their Reinsurers
Read More
Insurance Certificates and Evidence of Insurance for Lease Transactions
Read More

View Entire June Insurance Coverage Law Report
View Insurance Coverage Law Report Archives
---
CONTACT US:
Customer Service:
1-800-543-0874
Email:
customerservice@sbmedia.com