Industry news, expert analysis, and daily updates on the most significant insurance coverage legal developments—from the insurance and legal experts of The National Underwriter Company.


Commercial General Liability
NFL Thrown for a Loss: Appeals Court Affirms Stay of California Coverage Action in Favor of Insurers' New York Suits
A California appellate court has issued a decision that summarizes the status of lawsuits brought in multiple states by dozens of former players, alleging lifelong brain damage from on-field injuries dating back to the 1950s, against the National Football League and NFL Properties LLC, and that also summarizes the status of various insurance coverage actions between the NFL and 32 insurance carriers. In its ruling, the appellate court affirmed a trial court's decision staying a coverage action brought in California by the NFL and NFL Properties seeking declaratory relief regarding the coverage duties of the insurers for the ex-players' lawsuits. As a result, parallel coverage actions filed by some of the insurers in New York state courts at approximately the same time as the NFL's California coverage case will first proceed. Read More

Commercial General Liability
Appeals Court Affirms that "Poor Workmanship" Was Not an "Occurrence"
A Minnesota appellate court has affirmed a trial court's decision that a commercial general liability insurance policy did not cover damages awarded to homeowners in an arbitration proceeding against a general contractor, ruling that "poor workmanship" was not an "occurrence" within the meaning of the policy. Read More
Commercial General Liability
TCPA's $500 Liquidated Damages per Violation Are Not Punitive Damages, Illinois Supreme Court Holds
The Illinois Supreme Court has ruled that the Telephone Consumer Protection Act of 1991 is a remedial and not a punitive statute, and that the $500 liquidated damages per violation provided by the TCPA are not punitive damages. It decided that the "manifest purpose" of the TCPA was "remedial and not penal." It explained that Congress enacted the TCPA to address telemarketing abuses attributable to the receipt of unsolicited faxes, intending "to prevent advertisers from unfairly shifting the cost of their advertisements to consumers while simultaneously preventing the use of their fax machines for legitimate purposes." The harms identified by Congress, e.g., loss of paper and ink, annoyance, and inconvenience, while small in reference to individual violations of the TCPA, were "nevertheless compensable" and were "represented by a liquidated sum of $500 per violation," the court decided. Read More

Automobile Insurance
Divided Ohio Supreme Court Finds for Insureds Despite Uninsured Tortfeasor's Immunity
A divided Ohio Supreme Court has reversed a trial court's decision and ruled that the immunity of a tortfeasor police officer did not bar the right of insureds to recover uninsured motorist benefits. Read More

---
View All
Case Law Developments

Homeowner's Insurance
4 More Force-Placed Insurers Reach Agreements with NY
The New York Department of Financial Services has reached agreements with the four remaining New York force-placed insurers that had not yet agreed to implement reforms: American Modern Insurance, Chubb, Fidelity and Deposit Company of Maryland, and FinSecure.
Read More
Insurance Fraud
Over $700,000 Sent to Victims of Alleged Health Insurance Scam
The Federal Trade Commission is mailing 412 refund checks totaling more than $700,000 to consumers who allegedly were victimized by a telemarketing operation that tricked them into buying bogus health insurance. Read More
---
View All
Legislative/Regulatory Developments

Steven A. Meyerowitz, ESQ.
Director, FC&S Legal
Victoria Prussen Spears, ESQ.
Associate Director, FC&S Legal

FC&S Legal Editorial Advisory Board

Mitchell J. Auslander, Willkie Farr & Gallagher LLP
Carrie Cope, Schuyler, Roche & Crisham, P.C.
Anjali C. Das, Wilson Elser
John F. Finnegan, Chadbourne & Parke LLP
Michele L. Jacobson, Stroock & Stroock & Lavan LLP
Timothy P. Law, Reed Smith LLP
Donald S. Malecki, Malecki, Deimling, Nielander & Associates, LLC
Cort T. Malone, Anderson Kill & Olick, P.C.
D. Milone, Kelley Drye & Warren LLP
Joseph P. Monteleone, Tressler LLP
Anne M. Murray, Rivkin Radler LLP
Jerold Oshinsky, Kasowitz, Benson, Torres & Friedman LLP
Seth B. Schafler, Proskauer Rose LLP
David D. Thamann, The National Underwriter Company
INDUSTRY NEWS
Chaman Aggarwal Joins Marsh to Lead U.S. Energy Construction Practice
Read More
Frank J. DeMento Joins Crowell & Moring's Insurance/Reinsurance Group in New York
Read More
XL Group Launches Global Programs Center of Excellence with Kevin Strong as Global Programs Manager
Read More
NEW PRODUCTS
Marsh Launches Marsh Delta D&O to Protect from Rising Management Liability Risks
Read More
PEOPLE
Navigators Names Glen M. Bronstein as U.S. Chief Claims Officer
Read More

View All Industry News
---
CALENDAR
SIIA International Conference
Read More
Employment Practices Liability Insurance
Read More
HarrisMartin's Superstorm Sandy Insurance Coverage Litigation Conference
Read More

View Full Calendar
---
INSURANCE COVERAGE LAW REPORT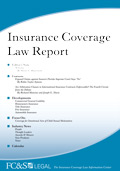 Focus On: Coverage for Law Firm Victimized in Check Scam
Read More
Is Defective Construction an "Occurrence"? The Answer Isn't So Concrete
Read More
Insurance Coverage for Internet Copyright Claims
Read More

View Entire May Insurance Coverage Law Report
View Insurance Coverage Law Report Archives
---
CONTACT US:
Customer Service:
1-800-543-0874
Email:
customerservice@sbmedia.com