Industry news, expert analysis, and daily updates on the most significant insurance coverage legal developments—from the insurance and legal experts of The National Underwriter Company.


Commercial General Liability
Insurer Need Not Pay Defense Costs Insured Incurred before It Told Insurer about Underlying Suit, Sixth Circuit Holds
The U.S. Court of Appeals for the Sixth Circuit has affirmed a district court's decision that an insurer was not obligated to reimburse its insured for defense costs it incurred in an underlying suit prior to its notifying the insurer of the suit. The circuit court rejected the insured's contention that the insurer had to establish prejudice from the absence of notice and permission, notwithstanding the policy provision that disclaimed any need to show prejudice, declaring that the insured had not cited any "expense-only case" in which public policy prohibited the insurance company from enforcing a contractual provision that reasonably required notice and permission before the insured could charge defense costs to the insurance company. Read More

Commercial General Liability
Asbestos: Massachusetts Appeals Court Finds that "Pro Rata Time-on-the-Risk Allocation" Method Should Be Used
A Massachusetts appellate court has ruled that the pro rata time-on-the-risk allocation method adopted by the Massachusetts Supreme Judicial Court in Boston Gas Co. v. Century Indem. Co., should be applied to determine the extent of indemnity coverage owed by an insurer for alleged asbestos-related injuries. Read More
Commercial Property
8th Circuit: Coinsurance Provision Should be Calculated Based on Type of Claim Filed
The U.S. Court of Appeals for the Eighth Circuit, reversing a district court's decision in favor of an insurer, has ruled that calculation of an insurance policy's coinsurance provision depended on the type of claim filed and that where the insured filed a claim for the actual cash value of stolen property, the coinsurance provision should be calculated using actual cash values. Read More

Commercial General Liability
School Board's Policy Did Not Provide Coverage for Student Allegedly Injured While Being Driven in Private Car to Basketball Tournament
The Supreme Court of Appeals of West Virginia has ruled that a school board's insurance policy did not provide coverage for injuries allegedly suffered by a student who was in an accident after she left school in a private car to go to a state high school basketball tournament. The Case: After a sophomore at Summers County High School in West Virginia left school in a graduate's car—apparently without the permission of any school official—to go to the tournament and was injured, her mother sued the board of education and its insurance carrier, National Union Fire Insurance Company. The trial court granted the insurer's motion for summary judgment, and the case reached the Supreme Court of Appeals of West Virginia. Read More

---
View All
Case Law Developments

In the States
New York Launches Inquiry into Cyber Threats at Insurance Companies
New York has launched an inquiry into the steps that insurers are taking to keep their customers and companies safe from cyber threats. The New York State Department of Financial Services ("DFS") has sent "308 Letters" to the largest insurance companies that DFS regulates, requesting information on the policies and procedures they have in place to protect against cyber attacks. A "308 letter" is a request for information to which insurers are legally required to respond.
Read More
Homeowners Insurance
Oklahoma Insurance Commissioner Orders Insurance Policies to Remain in Place
Oklahoma Insurance Commissioner John D. Doak has issued a moratorium on all insurance non-renewals, cancellations, and terminations for affected areas in the wake of the tornado and severe storms that occurred in central Oklahoma May 19-20. Read More
---
View All
Legislative/Regulatory Developments

Steven A. Meyerowitz, ESQ.
Director, FC&S Legal
Victoria Prussen Spears, ESQ.
Associate Director, FC&S Legal

FC&S Legal Editorial Advisory Board

Mitchell J. Auslander, Willkie Farr & Gallagher LLP
Carrie Cope, Schuyler, Roche & Crisham, P.C.
Anjali C. Das, Wilson Elser
John F. Finnegan, Chadbourne & Parke LLP
Michele L. Jacobson, Stroock & Stroock & Lavan LLP
Timothy P. Law, Reed Smith LLP
Donald S. Malecki, Malecki, Deimling, Nielander & Associates, LLC
Cort T. Malone, Anderson Kill & Olick, P.C.
D. Milone, Kelley Drye & Warren LLP
Joseph P. Monteleone, Tressler LLP
Anne M. Murray, Rivkin Radler LLP
Jerold Oshinsky, Kasowitz, Benson, Torres & Friedman LLP
Seth B. Schafler, Proskauer Rose LLP
David D. Thamann, The National Underwriter Company
INDUSTRY NEWS
Chubb Custom Insurance Approved as a New Jersey Domestic Surplus Lines Insurer
Read More
NOAA Predicts Active 2013 Atlantic Hurricane Season
Read More
Punitive Damages Unavailable for Third Party Insurance Bad Faith
Read More
NEW PRODUCTS
Buyer Liability Insurance Now Available for California's Cap-and-Trade Offset Program
Read More
PEOPLE
Kevin P. McCarthy to Retire from Unum; Michael Q. Simonds to become CEO of Unum U.S.
Read More

View All Industry News
---
CALENDAR
NYIA 2013 Annual Conference
Read More
Regulatory and Litigation Challenges to Lender-Placed Insurance
Read More
NAIC Financial Summit
Read More

View Full Calendar
---
INSURANCE COVERAGE LAW REPORT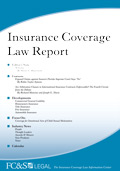 Focus On: Coverage for Law Firm Victimized in Check Scam
Read More
Is Defective Construction an "Occurrence"? The Answer Isn't So Concrete
Read More
Insurance Coverage for Internet Copyright Claims
Read More

View Entire May Insurance Coverage Law Report
View Insurance Coverage Law Report Archives
---
CONTACT US:
Customer Service:
1-800-543-0874
Email:
customerservice@sbmedia.com