Industry news, expert analysis, and daily updates on the most significant insurance coverage legal developments—from the insurance and legal experts of The National Underwriter Company.


Commercial General Liability
TCPA's $500 Liquidated Damages per Violation Are Not Punitive Damages, Illinois Supreme Court Holds
The Illinois Supreme Court has ruled that the Telephone Consumer Protection Act of 1991 is a remedial and not a punitive statute, and that the $500 liquidated damages per violation provided by the TCPA are not punitive damages. It decided that the "manifest purpose" of the TCPA was "remedial and not penal." It explained that Congress enacted the TCPA to address telemarketing abuses attributable to the receipt of unsolicited faxes, intending "to prevent advertisers from unfairly shifting the cost of their advertisements to consumers while simultaneously preventing the use of their fax machines for legitimate purposes." The harms identified by Congress, e.g., loss of paper and ink, annoyance, and inconvenience, while small in reference to individual violations of the TCPA, were "nevertheless compensable" and were "represented by a liquidated sum of $500 per violation," the court decided. Read More

Homeowners Insurance
Idaho Supreme Court Finds Policy Unambiguous, Ruling that It Did Not Cover Water Damage Claims
The Idaho Supreme Court has affirmed a trial court's decision that water loss claims made under a homeowner's insurance policy were excluded from coverage, deciding that the policy was not ambiguous. The Case: Roger Rizzo alleged that his home was damaged by water entering the basement. Mr. Rizzo's homeowner's insurer, State Farm Fire and Casualty Company, disclaimed coverage based on the policy's exclusion for water damage caused by surface water and water from below the surface of the ground. Read More

Automobile Insurance
Divided Ohio Supreme Court Finds for Insureds Despite Uninsured Tortfeasor's Immunity
A divided Ohio Supreme Court has reversed a trial court's decision and ruled that the immunity of a tortfeasor police officer did not bar the right of insureds to recover uninsured motorist benefits. FC&S Legal Comment: The court's opinion was joined by one justice. Two others concurred in the judgment and urged that Snyder v. Am. Fam. Ins. Co., 871 N.E.2d 574 (Ohio 2007), be overruled. Three other justices dissented, urging that Snyder controlled. It would appear that the court's long and tortured history of jurisprudence regarding UM-UIM insurance coverage continues. Read More

Fire Insurance
2d Circuit Asks Top N.Y. Court to Interpret Fire Insurance Policy's Suit Limitations Clause in Light of Its Replacement Cost Provision
The U.S. Court of Appeals for the Second Circuit has asked the N.Y. Court of Appeals to interpret a fire insurance policy's two year suit limitations clause in light of its replacement cost provision. Read More
---
View All
Case Law Developments

Homeowner's Insurance
N.Y. Bill Would Bar Anti-Concurrent Causation Clauses
Bills introduced in the New York legislature would prohibit an insurer from denying or excluding coverage for any claim for loss or damage that otherwise would be covered by a policy solely because an event or peril not covered under the policy or specifically excluded under the policy was a contributing factor in such loss or damage or occurred simultaneously with the event or peril that was covered.
Read More
In the States
N.H. Governor Hassan Reappoints Insurance Commissioner Roger Sevigny
New Hampshire Governor Maggie Hassan has reappointed Roger Sevigny to continue serving as New Hampshire's Insurance Commissioner. Read More
---
View All
Legislative/Regulatory Developments

Steven A. Meyerowitz, ESQ.
Director, FC&S Legal
Victoria Prussen Spears, ESQ.
Associate Director, FC&S Legal

FC&S Legal Editorial Advisory Board

Mitchell J. Auslander, Willkie Farr & Gallagher LLP
Carrie Cope, Schuyler, Roche & Crisham, P.C.
Anjali C. Das, Wilson Elser
John F. Finnegan, Chadbourne & Parke LLP
Michele L. Jacobson, Stroock & Stroock & Lavan LLP
Timothy P. Law, Reed Smith LLP
Donald S. Malecki, Malecki, Deimling, Nielander & Associates, LLC
Cort T. Malone, Anderson Kill & Olick, P.C.
D. Milone, Kelley Drye & Warren LLP
Joseph P. Monteleone, Tressler LLP
Anne M. Murray, Rivkin Radler LLP
Jerold Oshinsky, Jenner & Block
Seth B. Schafler, Proskauer Rose LLP
David D. Thamann, The National Underwriter Company
INDUSTRY NEWS
Insurance Law Firm Jorden Burt Reportedly in Merger Talks with Carlton Fields
Read More
PIAA Elects New Directors, Re-appoints Officers at 2013 Medical Liability Conference
Read More
Insuring Against Cyber Risks: Coverage, Exclusions, Considerations
Read More
NEW PRODUCTS
Aviva to Sell Car Insurance—by Phone
Read More
PEOPLE
American Bankers Insurance Association Elects Dario Campolattaro and Kirk Jensen to the Board
Read More

View All Industry News
---
CALENDAR
NYIA 2013 Annual Conference
Read More
Regulatory and Litigation Challenges to Lender-Placed Insurance
Read More
NAIC Financial Summit
Read More

View Full Calendar
---
INSURANCE COVERAGE LAW REPORT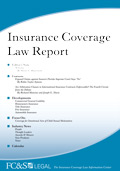 Focus On: Coverage for Law Firm Victimized in Check Scam
Read More
Is Defective Construction an "Occurrence"? The Answer Isn't So Concrete
Read More
Insurance Coverage for Internet Copyright Claims
Read More

View Entire May Insurance Coverage Law Report
View Insurance Coverage Law Report Archives
---
CONTACT US:
Customer Service:
1-800-543-0874
Email:
customerservice@sbmedia.com