Industry news, expert analysis, and daily updates on the most significant insurance coverage legal developments—from the insurance and legal experts of The National Underwriter Company.



Automobile Insurance
Plaintiffs' Covenants "Not to Execute" against Insured Doom Their Ability to Recover from His Insurer
A North Carolina appeals court has affirmed a trial court's decision in favor of an insurer, ruling that plaintiffs who had agreed that they would never attempt to collect any sum from the insured could not recover against his insurance company. It reasoned that when an insurer's obligation under a policy was to pay "all sums which [the] insured shall become legally obligated to pay" and when the insured under that policy was given a release by the injured parties – that is, where the parties covenanted that no judgment would be executed against the insured – the insurer's obligations under the policy were extinguished.
Read More
Commercial General Liability
No Coverage for Alleged Assault at College Fraternity, Alabama Supreme Court Holds
The Alabama Supreme Court has reversed a trial court's decision and decided that a person allegedly assaulted at a college fraternity house could not recover the amount of the judgment he had obtained against the fraternity and two of its officers from the fraternity's commercial general liability insurance policy.
Read More
Commercial Property
"Made Whole" Doctrine Did Not Require Insurer to Demonstrate that Insured Had Been Fully Compensated Before It Could Seek Subrogation
The Georgia Supreme Court has ruled that the "made whole" doctrine did not require an insurer to demonstrate that an insured under a commercial property insurance policy had been fully compensated before the insurer could seek to exercise its subrogation rights under the policy. The court explained that the "made whole" doctrine did not apply to a commercial property insurance contract that expressly authorized the insurer to pursue its subrogation rights after compensating the insured for damage to its property.
Read More
Personal Lines
North Dakota Supreme Court Limits Coverage after Airplane Crash to $103,000 per Passenger
The North Dakota Supreme Court has affirmed a trial court's decision that a pilot's aircraft insurance policy unambiguously limited coverage to $103,000 for the passenger who died in an airplane crash.
Read More
---
View All
Case Law Developments

Homeowner's Insurance
Maine Legislature's Insurance Committee Rejects Bill Requiring Insurers to Notify Insureds of Coverage Implications of "Vacant Homes"
The Committee on Insurance and Financial Services in Maine's legislature has rejected a bill that would have required an insurer, upon receiving information that a property used as a residence and insured by the insurer was vacant, to send a statement to the insured written "in a clear manner understandable to a reasonable person" that explained the policy provisions regarding vacant property and that defined "vacant." The bill also would have allowed an insurer to deny coverage for a claim on a vacant property used as a residence only for a claim that occurred more than 60 days after the insurer had sent the statement to the insured.
Read More
Securities Regulation
Insider Trading Charged in Shares of Medical Professional Liability Insurer
The Securities and Exchange Commission has charged the brother of a director, his friend, and his sister-in-law with insider trading in the securities of an East Lansing, Michigan-based holding company for a medical professional liability insurer. Read More
---
View All
Legislative/Regulatory Developments

Steven A. Meyerowitz, ESQ.
Director, FC&S Legal
Victoria Prussen Spears, ESQ.
Associate Director, FC&S Legal

FC&S Legal Editorial Advisory Board

Mitchell J. Auslander, Willkie Farr & Gallagher LLP
Carrie Cope, Schuyler, Roche & Crisham, P.C.
Anjali C. Das, Wilson Elser
John F. Finnegan, Chadbourne & Parke LLP
Michele L. Jacobson, Stroock & Stroock & Lavan LLP
Timothy P. Law, Reed Smith LLP
Donald S. Malecki, Malecki, Deimling, Nielander & Associates, LLC
Cort T. Malone, Anderson Kill & Olick, P.C.
D. Milone, Kelley Drye & Warren LLP
Joseph P. Monteleone, Tressler LLP
Anne M. Murray, Rivkin Radler LLP
Jerold Oshinsky, Jenner & Block
Seth B. Schafler, Proskauer Rose LLP
David D. Thamann, The National Underwriter Company
INDUSTRY NEWS
Expecting SIFI Designation, AIG Seeks Director with Regulatory Background
Read More
Munich Re Expects Strong Insurance-Sector Growth Until 2020
Read More
Ex-Dewey Insurance Lawyer Doug Hammond Becomes CEO of National Financial Partners
Read More
NEW PRODUCTS
Travelers Introduces New Construction Pak – Builders' Risk Coverage
Read More
PEOPLE
D.C. Lobbyist Matt Gannon Named Head of Federal Affairs for Farmers Insurance
Read More

View All Industry News
---
CALENDAR
NYIA 2013 Annual Conference
Read More
Regulatory and Litigation Challenges to Lender-Placed Insurance
Read More
NAIC Financial Summit
Read More

View Full Calendar
---
INSURANCE COVERAGE LAW REPORT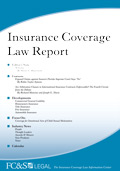 Focus On: Coverage for Law Firm Victimized in Check Scam
Read More
Is Defective Construction an "Occurrence"? The Answer Isn't So Concrete
Read More
Insurance Coverage for Internet Copyright Claims
Read More

View Entire May Insurance Coverage Law Report
View Insurance Coverage Law Report Archives
---
CONTACT US:
Customer Service:
1-800-543-0874
Email:
customerservice@sbmedia.com