Industry news, expert analysis, and daily updates on the most significant insurance coverage legal developments—from the insurance and legal experts of The National Underwriter Company.



Worker's Compensation
Ex-NFL Player's Disability Claim is Limited Based on His Pre-Season Salary, Louisiana Appeals Court Decides
A Louisiana appellate court has affirmed a decision by a worker's compensation judge limiting the disability benefits payable to a former professional football player who had been injured during the pre-season to an amount based on the amount of his pre-season salary. The Case: Daniel A. Campbell, a professional football player, injured his right knee on June 5, 2009, while at the New Orleans Saints' mini-camp. He was treated and cleared to play in late July, but reinjured the knee at practice sometime between July 31 and August 2, 2009. Those injuries ended his career as a player.
Read More
Homeowner's Insurance
Circuit Affirms Decision Limiting Additional Living Expenses to 12 Months Following Date of Loss
The U.S. Court of Appeals for the Sixth Circuit has affirmed a district court's decision that a homeowner's insurance policy limited the insurers obligation to provide coverage for additional living expenses to 12 months following the date of loss. The Case: After Liberty Insurance Corporation issued a homeowner's insurance policy to Reginald and Cassandra Hayes, they discovered leaking pipes in their home. An investigation by a contractor revealed asbestos in the walls, requiring the Hayeses to vacate their home and seek temporary living arrangements.
Read More
Commercial General Liability
No Coverage for Alleged Defects – Including Mold – to Uncompleted House, South Dakota Supreme Court Rules
The South Dakota Supreme Court has affirmed a trial court's decision that a commercial general liability insurance policy did not provide coverage for alleged defects – including mold – to an uncompleted home.
Read More
Personal Watercraft
"Dishonest or Illegal Acts" Exclusion Precludes Coverage for Accident Occurring while Insured Was Operating His Boat under the Influence, Court Rules
A federal district court in Virginia has ruled that a policy's "dishonest or illegal acts" exclusion precluded coverage for an accident occurring while the insured was operating his boat under the influence.
Read More
---
View All
Case Law Developments

Homeowner's Insurance
New Maryland Law Imposes Notice Obligation on Homeowner's Insurers
A new law in Maryland requires that an insurer that issues a homeowner's insurance policy in the state that contains an anti-concurrent causation clause must provide policyholders with a specified notice each year.
Read More
Insurance Fraud
N.Y. State Senate Approves Bills Intended to Fight Auto Insurance Fraud
The New York State Senate has passed three bills that, if enacted into law, would increase penalties for those who commit or assist in auto insurance fraud and that, it says, would give "more flexibility to insurance companies to prevent criminals from getting policies and continuing to commit auto fraud." Read More
---
View All
Legislative/Regulatory Developments

Steven A. Meyerowitz, ESQ.
Director, FC&S Legal
Victoria Prussen Spears, ESQ.
Associate Director, FC&S Legal

FC&S Legal Editorial Advisory Board

Mitchell J. Auslander, Willkie Farr & Gallagher LLP
Carrie Cope, Schuyler, Roche & Crisham, P.C.
Anjali C. Das, Wilson Elser
John F. Finnegan, Chadbourne & Parke LLP
Michele L. Jacobson, Stroock & Stroock & Lavan LLP
Timothy P. Law, Reed Smith LLP
Donald S. Malecki, Malecki, Deimling, Nielander & Associates, LLC
Cort T. Malone, Anderson Kill & Olick, P.C.
D. Milone, Kelley Drye & Warren LLP
Joseph P. Monteleone, Tressler LLP
Anne M. Murray, Rivkin Radler LLP
Jerold Oshinsky, Jenner & Block
Seth B. Schafler, Proskauer Rose LLP
David D. Thamann, The National Underwriter Company
INDUSTRY NEWS
Hudson Insurance Forms New Excess & Surplus Lines Company
Read More
AmTrust Financial Completes Acquisition of Mutual Insurers Holding Company
Read More
Tokio Millennium Re to Redomesticate to Switzerland
Read More
NEW PRODUCTS
First Capital and Hudson Insurance Announce New Insurance Services Professional Liability Facility
Read More
PEOPLE
AIG Appoints Anthony Philip President and CEO of American International Company Limited in Bermuda
Read More

View All Industry News
---
CALENDAR
9th Annual Canadian Captives & Corporate Insurance Strategies Summit
Read More
NYIA 2013 Annual Conference
Read More
NAIC Financial Summit
Read More

View Full Calendar
---
INSURANCE COVERAGE LAW REPORT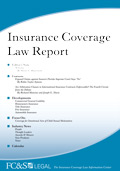 Focus On: Coverage for Law Firm Victimized in Check Scam
Read More
Is Defective Construction an "Occurrence"? The Answer Isn't So Concrete
Read More
Insurance Coverage for Internet Copyright Claims
Read More

View Entire May Insurance Coverage Law Report
View Insurance Coverage Law Report Archives
---
CONTACT US:
Customer Service:
1-800-543-0874
Email:
customerservice@sbmedia.com