Industry news, expert analysis, and daily updates on the most significant insurance coverage legal developments—from the insurance and legal experts of The National Underwriter Company.



Personal Watercraft
"Dishonest or Illegal Acts" Exclusion Precludes Coverage for Accident Occurring while Insured Was Operating His Boat under the Influence, Court Rules
A federal district court in Virginia has ruled that a policy's "dishonest or illegal acts" exclusion precluded coverage for an accident occurring while the insured was operating his boat under the influence. The Case: While operating the 46 foot Silverton Motor Yacht named "Seabastion" that he owned in Fishing Bay near the Virginia coast, Christopher Armstrong collided with a sailboat named "Voyager." Mr. Armstrong was arrested for operating a motorboat under the influence.
Read More
Automobile Insurance
Massachusetts Insurer Entitled to Offset No-Fault Benefits Received under New York Policy
A Massachusetts insurer was entitled to offset personal injury protection no-fault insurance benefits that two people allegedly injured in an automobile accident with its insured had received under their New York insurance policy, an appellate court in Massachusetts has confirmed. The Case: David Allen, whose automobile was insured by Commerce Insurance Company, Inc., was involved in a collision in Holyoke, Massachusetts, with an automobile driven by Julio Alvarado and in which Maria Alvarado was a passenger. Ms. Alvarado owned the automobile, which was registered in New York and insured under a New York policy through Peerless Insurance Co.
Read More
Personal Lines
Circuit Affirms Decision Allowing Insurer to Retain Policy Premium as Damages Despite Policy's Recission
The U.S. Court of Appeals for the First Circuit has affirmed a district court's decision allowing an insurance carrier to retain policy premiums as damages even where the life insurance policy was rescinded.
Read More
Crime and Employee Dishonesty
Wife Not an Employee in Husband's Dental Office for Purposes of Policy's "Employee Dishonesty" Provision, Court Rules
A wife working in her husband's dental office was not an employee within the meaning of his insurance policy's "employee dishonesty" provision, and he therefore was not covered for losses allegedly suffered when she stole money from his practice, a federal district court in Alabama has ruled.
Read More
---
View All
Case Law Developments

Homeowners Insurance
New Jersey To Require One Page Policy Summary for Homeowners
A new law in New Jersey will require that homeowner's insurers prepare a one page summary of their policies for homeowners. The law requires that new homeowner's insurance policies be accompanied by a "consumer information brochure" written in "a simple, clear, understandable, and easily readable way" that provides a one page summary of the policy, including notable coverages and exclusions under the policy, as determined by the Commissioner of Banking and Insurance.
Read More
Workers Compensation
Indiana Worker's Comp Reform Bill Signed by Governor Pence
Indiana Governor Mike Pence has signed worker's compensation reform legislation. Read More
---
View All
Legislative/Regulatory Developments

Steven A. Meyerowitz, ESQ.
Director, FC&S Legal
Victoria Prussen Spears, ESQ.
Associate Director, FC&S Legal

FC&S Legal Editorial Advisory Board

Mitchell J. Auslander, Willkie Farr & Gallagher LLP
Carrie Cope, Schuyler, Roche & Crisham, P.C.
Anjali C. Das, Wilson Elser
John F. Finnegan, Chadbourne & Parke LLP
Michele L. Jacobson, Stroock & Stroock & Lavan LLP
Timothy P. Law, Reed Smith LLP
Donald S. Malecki, Malecki, Deimling, Nielander & Associates, LLC
Cort T. Malone, Anderson Kill & Olick, P.C.
D. Milone, Kelley Drye & Warren LLP
Joseph P. Monteleone, Tressler LLP
Anne M. Murray, Rivkin Radler LLP
Jerold Oshinsky, Jenner & Block
Seth B. Schafler, Proskauer Rose LLP
David D. Thamann, The National Underwriter Company
INDUSTRY NEWS
Tokio Millennium Re to Redomesticate to Switzerland
Read More
Bradley N. Hatfield is New VP of Underwriting, SPA, at Employers
Read More
Punish Texters and Spy on Drunk Drivers, Most Drivers Say in CarInsurance.com Survey
Read More
NEW PRODUCTS
Zurich Announces New Coverage for Non-Profit Long Term Care Organizations
Read More
PEOPLE
WeiserMazars Names Mahmoud Abdallah a Senior Advisor
Read More

View All Industry News
---
CALENDAR
Emerging Insurance Coverage & Allocation Issues in 2013
Read More
9th Annual Canadian Captives & Corporate Insurance Strategies Summit
Read More
NYIA 2013 Annual Conference
Read More

View Full Calendar
---
INSURANCE COVERAGE LAW REPORT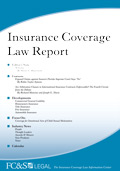 Focus On: Coverage for Law Firm Victimized in Check Scam
Read More
Is Defective Construction an "Occurrence"? The Answer Isn't So Concrete
Read More
Insurance Coverage for Internet Copyright Claims
Read More

View Entire May Insurance Coverage Law Report
View Insurance Coverage Law Report Archives
---
CONTACT US:
Customer Service:
1-800-543-0874
Email:
customerservice@sbmedia.com