Industry news, expert analysis, and daily updates on the most significant insurance coverage legal developments—from the insurance and legal experts of The National Underwriter Company.



Professional Liability Insurance
Insurer's Default Judgment against Insureds Collaterally Estops Their Judgment Creditor's Action against Insurer
A default judgment obtained by an insurer against its insureds acted to collaterally estop an action brought by their judgment creditor against the insurer, a federal district court in Georgia has ruled. The case is Old Republic National Title Ins. Co. v. Harford Accident and Indeminity Co.
Read More
Commercial Property
Notice Provided 4 1/2 Years after Hurricane Wilma Was Not Prompt, Court Decides
A federal district court has ruled that notice provided to an insurer about four-and-one-half years after Hurricane Wilma was not prompt, as required by the policy. Because the insured did not rebut the presumption of prejudice, the court granted summary judgment to the insurer.
Read More
Workers Compensation
Court Says Insurer's Suit against Government Was Premature and Had to be Dismissed
A federal district court has ruled that a worker's compensation insurer's lawsuit against the federal government, filed without waiting for the denial of its claim, had to be dismissed as premature. The case is American Interstate Ins. Co. v. Donahue.
Read More
Professional Liability Insurance
Court Finds No Coverage for False Claims Act Suit against Insured
A federal district court has ruled that a professional liability insurance policy did not provide coverage to the insured for a lawsuit alleging that it had violated the federal False Claims Act.
Read More
---
View All
Case Law Developments

Homeowners Insurance
New Maryland Law Imposes Notice Obligation on Homeowner's Insurers
A new law in Maryland requires that an insurer that issues a homeowner's insurance policy in the state that contains an anti-concurrent causation clause must provide policyholders with a specified notice each year. Generally speaking, an ACC clause states that a loss caused by a combination of covered and non-covered events will not be covered.
Read More
Insurance Fraud
N.Y. State Senate Approves Bills Intended to Fight Auto Insurance Fraud
The New York State Senate has passed three bills that, if enacted into law, would increase penalties for those who commit or assist in auto insurance fraud and that, it says, would give "more flexibility to insurance companies to prevent criminals from getting policies and continuing to commit auto fraud." Read More
---
View All
Legislative/Regulatory Developments

Steven A. Meyerowitz, ESQ.
Director, FC&S Legal
Victoria Prussen Spears, ESQ.
Associate Director, FC&S Legal

FC&S Legal Editorial Advisory Board

Mitchell J. Auslander, Willkie Farr & Gallagher LLP
Carrie Cope, Schuyler, Roche & Crisham, P.C.
Anjali C. Das, Wilson Elser
John F. Finnegan, Chadbourne & Parke LLP
Michele L. Jacobson, Stroock & Stroock & Lavan LLP
Timothy P. Law, Reed Smith LLP
Donald S. Malecki, Malecki, Deimling, Nielander & Associates, LLC
Cort T. Malone, Anderson Kill & Olick, P.C.
D. Milone, Kelley Drye & Warren LLP
Joseph P. Monteleone, Tressler LLP
Anne M. Murray, Rivkin Radler LLP
Jerold Oshinsky, Jenner & Block
Seth B. Schafler, Proskauer Rose LLP
David D. Thamann, The National Underwriter Company
INDUSTRY NEWS
Columbian Mutual's Thomas E. Rattmann Receives Forum 500 Distinguished Service Award
Read More
Endurance Names Gary Tully to Head Contract Binding Operations Insurance
Read More
Mutual Insurers Holding Company to Convert to Stock Company
Read More
NEW PRODUCTS
MetLife Auto & Home Launches Expanded Identity Protection Services Including Social Media Compromise
Read More
PEOPLE
Nelson Mullins Adds Insurance Lawyers Kevin Doherty and Cynthia Wiel
Read More

View All Industry News
---
CALENDAR
9th Annual Canadian Captives & Corporate Insurance Strategies Summit
Read More
NYIA 2013 Annual Conference
Read More
Regulatory and Litigation Challenges to Lender-Placed Insurance
Read More

View Full Calendar
---
INSURANCE COVERAGE LAW REPORT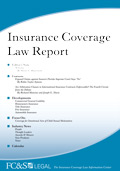 Focus On: Coverage for Law Firm Victimized in Check Scam
Read More
Is Defective Construction an "Occurrence"? The Answer Isn't So Concrete
Read More
Insurance Coverage for Internet Copyright Claims
Read More

View Entire May Insurance Coverage Law Report
View Insurance Coverage Law Report Archives
---
CONTACT US:
Customer Service:
1-800-543-0874
Email:
customerservice@sbmedia.com