Industry news, expert analysis, and daily updates on the most significant insurance coverage legal developments—from the insurance and legal experts of The National Underwriter Company.



Homeowner's Insurance
Arkansas Supreme Court Asked to Decide whether Labor Costs Are Depreciable when Determining "Actual Cash Value" of Covered Loss
A federal district court in Arkansas has asked the Arkansas Supreme Court to decide whether an insurer in determining the "actual cash value" of a covered loss under an indemnity insurance policy may depreciate the costs of labor when the term "actual cash value" was not defined in the policy.
Read More
Exclusions
Pollution and Health Hazard Exclusions Do Not Bar Coverage for Interior Damage Allegedly Caused by Chinese Drywall, Court Rules
A federal district court in Florida has ruled that two insurance policies' pollution and health hazard exclusions did not bar coverage for claims alleging that imported Chinese drywall sold by the insured had caused damage to the interior of various residences.
Read More
Inland Marine
Finding Ambiguity in Policies, Court Aggregates Limits and Rules that Insureds' Bad Faith Claim Met Exception to Statutory Exhaustion Requirement
A federal district court in Maryland has ruled that the limits of three policies issued by an insurance carrier could be aggregated, putting the insureds' bad faith claim against their insurer outside the reach of a statute requiring that they file their claim with the Maryland Insurance Administration before bringing suit.
Read More
Automobile Insurance
Relying on "Danger Invites Rescue" Doctrine, Appellate Court Allows First Responder's SUM Suit to Proceed
An intermediate appellate court in New York has affirmed a trial court's decision refusing to dismiss a first responder's claim for supplementary uninsured–underinsured motorist benefits against his insurance company based on the "danger invites rescue" doctrine.
Read More
---
View All
Case Law Developments

Personal Lines
SEC, FINRA Issue Investor Alert on Pension or Settlement Income Streams
The Securities and Exchange Commission and the Financial Industry Regulatory Authority have issued an investor alert entitled "Pension or Settlement Income Streams – What You Need to Know Before Buying or Selling Them."
Read More
Flood
Senator Proposes to Stop Flood Insurance Increases
U.S. Senator Mary L. Landrieu, D-La., has filed an amendment to the Water Resources Development Act that would stop premium rate increases for National Flood Insurance Program coverage until the Federal Emergency Management Agency conducts an affordability study and there is adequate time to act on the results. Read More
---
View All
Legislative/Regulatory Developments

Steven A. Meyerowitz, ESQ.
Director, FC&S Legal
Victoria Prussen Spears, ESQ.
Associate Director, FC&S Legal

FC&S Legal Editorial Advisory Board

Mitchell J. Auslander, Willkie Farr & Gallagher LLP
Carrie Cope, Schuyler, Roche & Crisham, P.C.
Anjali C. Das, Wilson Elser
John F. Finnegan, Chadbourne & Parke LLP
Michele L. Jacobson, Stroock & Stroock & Lavan LLP
Timothy P. Law, Reed Smith LLP
Donald S. Malecki, Malecki, Deimling, Nielander & Associates, LLC
Cort T. Malone, Anderson Kill & Olick, P.C.
D. Milone, Kelley Drye & Warren LLP
Joseph P. Monteleone, Tressler LLP
Anne M. Murray, Rivkin Radler LLP
Jerold Oshinsky, Jenner & Block
Seth B. Schafler, Proskauer Rose LLP
David D. Thamann, The National Underwriter Company
INDUSTRY NEWS
Sun Life Financial Announces Election of Directors
Read More
Manulife Announces New Board and Committee Chairs
Read More
84 Million Were Uninsured for a Time or Underinsured in 2012, Report Finds
Read More
NEW PRODUCTS
Zurich Announces New Coverage for Non-Profit Long Term Care Organizations
Read More
PEOPLE
CNA Appoints Dave Brosnan Senior Vice President of International
Read More

View All Industry News
---
CALENDAR
Emerging Insurance Coverage & Allocation Issues in 2013
Read More
9th Annual Canadian Captives & Corporate Insurance Strategies Summit
Read More
NYIA 2013 Annual Conference
Read More

View Full Calendar
---
INSURANCE COVERAGE LAW REPORT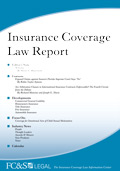 Focus On: Coverage for Law Firm Victimized in Check Scam
Read More
Is Defective Construction an "Occurrence"? The Answer Isn't So Concrete
Read More
Insurance Coverage for Internet Copyright Claims
Read More

View Entire May Insurance Coverage Law Report
View Insurance Coverage Law Report Archives
---
CONTACT US:
Customer Service:
1-800-543-0874
Email:
customerservice@sbmedia.com