Industry news, expert analysis, and daily updates on the most significant insurance coverage legal developments—from the insurance and legal experts of The National Underwriter Company.



Commercial General Liability
Montana Supreme Court Upholds $3 Million Judgment against Insurers Stemming from Girl's Suicide at "Tough Love" Facility
The Montana Supreme Court has upheld a judgment against a commercial general liability insurer and an excess insurer stemming from a girl's suicide at a "tough love" facility, rejecting the insurers' reliance on (i) exclusions for "professional services" and "designated" or "excluded operations," (ii) the absence of an occurrence, and (iii) late notice. Read More
Automobile Insurance
Couple Who Had Sold Delaware Home and Moved to Maryland, But Had Not Yet Registered Their Vehicle in Maryland, Found Entitled to Delaware PIP Benefits
Explaining that the plaintiffs' car "had to be registered somewhere," a trial court in Delaware has ruled that Delaware personal injury protection benefits were available to them even though they had sold their Delaware home and moved to Maryland, given that they had not yet re-registered their car in Maryland.
Read More
Exclusions
"Contractual Obligation" Exclusion Dooms City's Coverage Claim, Sixth Circuit Rules
The U.S. Court of Appeals for the Sixth Circuit has affirmed a district court's ruling that an exclusion for "Public Officials' Errors and Omissions arising out of ... [f]ailure to perform or breach of a contractual obligation" barred coverage of claims asserted against the City of Warren, Michigan, by a municipal waste contractor.
Read More
Excess
Relying on the "Reasonable Expectations Doctrine," Circuit Finds Coverage under Excess Policy for Malicious Prosecution Claims against City
The U.S. Court of Appeals for the Eighth Circuit, relying on the "reasonable expectations doctrine," has found coverage under an excess liability policy issued to the City of Council Bluffs, Iowa, for malicious prosecution claims asserted against the city. Read More
---
View All
Case Law Developments

TRIA Update
Two Distinct Views of TRIA
Do growing insurer surpluses call into question the industry's need for Congressional renewal of the Terrorism Risk Insurance Act, or should TRIA be renewed because it has restored stability to the U.S. insurance market? It depends on who you listen to.
Read More
Insurance Fraud
8 Charged in New York in Alleged $2 Million Staged Accident Conspiracy Involving U-Haul Vehicles
Eight people have been charged with mail fraud and conspiracy to commit mail fraud in connection with a scheme to defraud multiple insurance companies. Read More
---
View All
Legislative/Regulatory Developments

Steven A. Meyerowitz, ESQ.
Director, FC&S Legal
Victoria Prussen Spears, ESQ.
Associate Director, FC&S Legal

FC&S Legal Editorial Advisory Board

Mitchell J. Auslander, Willkie Farr & Gallagher LLP
Carrie Cope, Schuyler, Roche & Crisham, P.C.
Anjali C. Das, Wilson Elser
John F. Finnegan, Chadbourne & Parke LLP
Michele L. Jacobson, Stroock & Stroock & Lavan LLP
Timothy P. Law, Reed Smith LLP
Donald S. Malecki, Malecki, Deimling, Nielander & Associates, LLC
Cort T. Malone, Anderson Kill & Olick, P.C.
D. Milone, Kelley Drye & Warren LLP
Joseph P. Monteleone, Tressler LLP
Anne M. Murray, Rivkin Radler LLP
Jerold Oshinsky, Jenner & Block
Seth B. Schafler, Proskauer Rose LLP
David D. Thamann, The National Underwriter Company
INDUSTRY NEWS
Athene Holding to Sell Life Business upon Acquisition of Aviva USA
Read More
Cell Phone Distracted Driving Crashes Vastly Under-Reported, Report Finds
Read More
Companies Not Sufficiently Prepared to Cope with Natural Catastrophes, Zurich Study Finds
Read More
NEW PRODUCTS
Hartford Steam Offers New Cyber Risk Insurance Coverage for Small Businesses
Read More
PEOPLE
Amerisure Names Bill Dennis Assistant Vice President of Claims
Read More

View All Industry News
---
CALENDAR
Emerging Insurance Coverage & Allocation Issues in 2013
Read More
9th Annual Canadian Captives & Corporate Insurance Strategies Summit
Read More
NYIA 2013 Annual Conference
Read More

View Full Calendar
---
INSURANCE COVERAGE LAW REPORT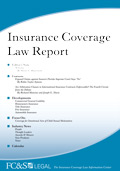 Focus On: Coverage for Law Firm Victimized in Check Scam
Read More
Is Defective Construction an "Occurrence"? The Answer Isn't So Concrete
Read More
Insurance Coverage for Internet Copyright Claims
Read More

View Entire May Insurance Coverage Law Report
View Insurance Coverage Law Report Archives
---
CONTACT US:
Customer Service:
1-800-543-0874
Email:
customerservice@sbmedia.com