Industry news, expert analysis, and daily updates on the most significant insurance coverage legal developments—from the insurance and legal experts of The National Underwriter Company.



Subrogation
Federal Court Stays Insurer's Subrogation Action Pending Tribal Court's Ruling in Parallel Action
A federal district court in North Carolina has issued a stay in an insurer's subrogation action pending a ruling on a motion to dismiss a parallel action brought in the Cherokee Tribal Court for the Eastern Band of Cherokee Indians, even though none of the parties to the subrogation action were members of the Eastern Band of Cherokee Indians. Read More
Homeowners Insurance
Insured's Failure to Submit to Examination under Oath Entitles Insurer to Abatement of Insured's Action, Not Summary Judgment
A Texas appellate court has reversed a trial court's decision granting summary judgment to an insurer in a coverage case brought by its insured based on the insured's failure to submit to an examination under oath, finding that the policy only entitled the insurer to an abatement of the action.
Read More
Personal Lines
Circuit Rejects Challenge to "Retained Asset Account" as Default Method for Paying Life Insurance Beneficiary
The U.S. Court of Appeals for the Seventh Circuit has rejected a challenge by the beneficiary of a life insurance policy to the insurer's use of a "retained asset account" as the default method for paying a claim.
Read More
Workers Compensation
Maryland Appeals Court Adopts "Dollar Credit" Theory over "Weeks Theory" to Determine Amount Payable under Revised Disability Award
A Maryland appeals court has determined that an employee who successfully challenged a permanent partial disability award from the Maryland Worker's Compensation Commission was entitled to recover the full increased dollar amount from his employer. Read More
---
View All
Case Law Developments

Homeowners Insurance
Maryland Bars Contractors from Paying a Homeowner's Insurance Deductible
Maryland SB 736, which makes it a crime for a contractor offering specified services for damages caused by weather to pay or otherwise compensate, an insured, with the intent to defraud an insurer, for all or part of a specified insurance deductible, has been signed into law.
Read More
Insurance Fraud
HHS Proposes to Increase Rewards for Reporting Medicare Fraud to Nearly $10 Million
Health and Human Services Secretary Kathleen Sebelius is proposing to increase rewards paid to Medicare beneficiaries and others whose tips about suspected fraud lead to the successful recovery of funds to as high as $9.9 million. Read More
---
View All
Legislative/Regulatory Developments

Steven A. Meyerowitz, ESQ.
Director, FC&S Legal
Victoria Prussen Spears, ESQ.
Associate Director, FC&S Legal

FC&S Legal Editorial Advisory Board

Mitchell J. Auslander, Willkie Farr & Gallagher LLP
Carrie Cope, Schuyler, Roche & Crisham, P.C.
Anjali C. Das, Wilson Elser
John F. Finnegan, Chadbourne & Parke LLP
Michele L. Jacobson, Stroock & Stroock & Lavan LLP
Timothy P. Law, Reed Smith LLP
Donald S. Malecki, Malecki, Deimling, Nielander & Associates, LLC
Cort T. Malone, Anderson Kill & Olick, P.C.
Richard D. Milone, Kelley Drye & Warren LLP
Joseph P. Monteleone, Tressler LLP
Anne M. Murray, Rivkin Radler LLP
Jerold Oshinsky, Jenner & Block
Seth B. Schafler, Proskauer Rose LLP
David D. Thamann, The National Underwriter Company
INDUSTRY NEWS
84 Million Were Uninsured for a Time or Underinsured in 2012, Report Finds
Read More
Dorothea Rodd Promoted to Senior Vice President by New York Life
Read More
Endurance Names Christopher Smith as Head of New Ocean Marine Insurance Unit
Read More
NEW PRODUCTS
New Conservation Liability Insurance Protects Millions of Acres in 46 States Read More
PEOPLE
Marc Abrams Joins Law Firm Nelson Levine as a Reinsurance Partner Read More

View All Industry News
---
CALENDAR
Emerging Insurance Coverage & Allocation Issues in 2013
Read More
9th Annual Canadian Captives & Corporate Insurance Strategies Summit
Read More
NYIA 2013 Annual Conference
Read More

View Full Calendar
---
INSURANCE COVERAGE LAW REPORT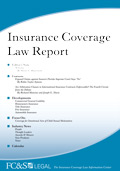 Focus On: Coverage for Law Firm Victimized in Check Scam
Read More
Is Defective Construction an "Occurrence"? The Answer Isn't So Concrete
Read More
Insurance Coverage for Internet Copyright Claims
Read More

View Entire May Insurance Coverage Law Report
View Insurance Coverage Law Report Archives
---
CONTACT US:
Customer Service:
1-800-543-0874
Email:
customerservice@sbmedia.com