Industry news, expert analysis, and daily updates on the most significant insurance coverage legal developments—from the insurance and legal experts of The National Underwriter Company.



Automobile Insurance
Did Montana Supreme Court Just Expand Insurance Agent's Duty to Insureds? Time Will Tell
A divided Montana Supreme Court has reversed a trial court's decision granting summary judgment to an insurance agency, finding issues of material fact with respect to the agency's duty to obtain underinsured motorist coverage for the insureds. The decision may well generate additional litigation in Montana over the scope of an insurance agent's duty to its insureds. Read More
Automobile Insurance
Trial Court Erred in Excluding Evidence of UIM Coverage from Jury, Appeals Court Rules
A Maryland appeals court has ruled, in a negligence case arising from an automobile accident, that a trial court erred by hiding the presence of the defendant's insurer from the jury, including but not limited to the plaintiffs' claims against the insurer, the insurer's cross-claim against its insured, and the identity of the insurer's attorney, who participated throughout the trial.
Read More
Workers Compensation
Mississippi's Top Court Says Worker's Comp Insurer Must Intervene in Third Party Action to Enforce Reimbursement Right
The Mississippi Supreme Court has ruled that, under Mississippi law, a worker's compensation insurer must join or intervene in a third party action brought by its insured to become entitled to reimbursement from a recovery obtained by the insured.
Read More
Product Liability Coverage
Is Medical Monitoring an Available Remedy in Tobacco Case? N.Y.'s Top Court May Decide
The U.S. Court of Appeals for the Second Circuit has asked New York's top court, the New York Court of Appeals, to decide whether current or former smokers may assert an independent claim for medical monitoring in their action against a cigarette manufacturer. Read More
---
View All
Case Law Developments

Automobile Insurance
Bill Targeting Improper Out-of-State Auto Registration Approved by New Jersey Assembly
Legislation intended to crack down on insurance fraud has been approved 76-0 by the New Jersey Assembly.
Read More
Workers Compensation
Ohio Governor Calls for $1 Billion Worker's Comp Rebate to Public and Private Employers
Ohio Governor John R. Kasich has proposed a $1 billion rebate for all 210,000 customers of the Ohio Bureau of Workers' Compensation—both public and private employers—as well as tripling investments in worker safety grants and lowering all rates by modernizing worker's comp operations. Read More
---
View All
Legislative/Regulatory Developments

Steven A. Meyerowitz, ESQ.
Director, FC&S Legal
Victoria Prussen Spears, ESQ.
Associate Director, FC&S Legal

FC&S Legal Editorial Advisory Board

Mitchell J. Auslander, Willkie Farr & Gallagher LLP
Carrie Cope, Schuyler, Roche & Crisham, P.C.
Anjali C. Das, Wilson Elser
John F. Finnegan, Chadbourne & Parke LLP
Michele L. Jacobson, Stroock & Stroock & Lavan LLP
Timothy P. Law, Reed Smith LLP
Donald S. Malecki, Malecki, Deimling, Nielander & Associates, LLC
Cort T. Malone, Anderson Kill & Olick, P.C.
Richard D. Milone, Kelley Drye & Warren LLP
Joseph P. Monteleone, Tressler LLP
Anne M. Murray, Rivkin Radler LLP
Jerold Oshinsky, Jenner & Block
Seth B. Schafler, Proskauer Rose LLP
David D. Thamann, The National Underwriter Company
Young Adults without Insurance Coverage Find Asthma Care Deteriorates
Read More
Higher Terrorism Insurance Costs follow Boston Marathon Bombings
Read More
HSBC to Sell Interest in Hana HSBC Life
Read More
NEW PRODUCTS
Foresters Launches Familylife Whole Life Insurance Read More
PEOPLE
Monique Hesseling Joins ACORD from Zurich General Read More

View All Industry News
---
CALENDAR
Emerging Insurance Coverage & Allocation Issues in 2013
Read More
9th Annual Canadian Captives & Corporate Insurance Strategies Summit
Read More
NYIA 2013 Annual Conference
Read More

View Full Calendar
---
INSURANCE COVERAGE LAW REPORT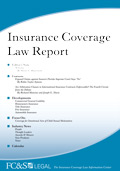 Focus On: Coverage for Law Firm Victimized in Check Scam
Read More
Is Defective Construction an "Occurrence"? The Answer Isn't So Concrete
Read More
Insurance Coverage for Internet Copyright Claims
Read More

View Entire May Insurance Coverage Law Report
View Insurance Coverage Law Report Archives
---
CONTACT US:
Customer Service:
1-800-543-0874
Email:
customerservice@sbmedia.com