Purchase a 12-Month Subscription—
Get an Additional Month FREE
FC&S Online offers the most comprehensive reference service providing interpretation and analysis of commercial and personal lines coverages and topics, as well as critical updates on ISO and AAIS forms and provisions.

Experience for yourself how the expert-driven search capabilities and real-time updates put the most current information at your fingertips in just a few clicks…and get an entire month for FREE!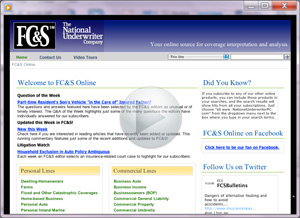 Call Now 1-800-543-0874 and find out how you can get
13 months of FC&S Online for the price of 12!
The Industry's Gold-Standard for Policy Interpretation
You have received this email at %%merge members_.emailaddr_%%.
Click here to unsubscribe from %%merge list.descshort%%.
©2014 Summit Professional Networks, All rights reserved. Privacy Policy

5081 Olympic Boulevard
Erlanger, KY 41018
1-800-543-0874