Problems viewing this email? Click Here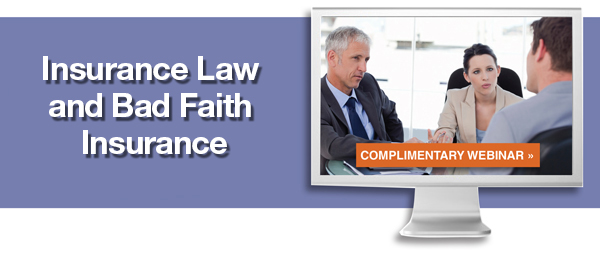 Join us on Join us on Tuesday, April 25th at 1pm ET

as FC&S Legal and The National Underwriter, a division of ALM Media, LLC, present:
Cyber Insurance: Protecting Against Cyber-Related Losses
Duration: 1 Hour that Includes Q&A
Register Now – Click Here

As mobile technologies, cloud software, and big-data analytics become more prevalent in the business world, cyber-related risks are an increasing concern for companies. To combat these risks, cyber insurance has become a critical component of any enterprise's risk management program.

This webinar will cover:

•

Cyber-related liabilities ane exposures.

•

Cyber insurance designed to protect businesses against cyber risks.

•

How companies can best use their insurance coverage to protect themselves against cyber-related losses and resume operations.

•

Recovering from cyber-attacks quickly and cost effectively.


Your Speaker:
Sergio F. Oehninger, Counsel, Hunton & Williams
Sergio Oehninger counsels multinational corporations on insurance coverage and risk management issues arising in various industries—including financial services, retail, manufacturing, energy, technology and real estate.

Mr. Oehninger's insurance coverage advice focuses on risks such as: cyber and data breach; commercial general liability; directors and officers; professional liability/errors and omissions; employment practices; property and casualty; business interruption; excess, umbrella and integrated risks; and other insured and reinsured risks under occurrence based or claims-made policies.
Register Now – Click Here
About FC&S Legal:
FC&S Legal serves the needs of busy legal professionals working in private practice or in-house, and representing either policyholders or insurance carriers, with a single source for all of their insurance coverage law analysis, education, and news needs.

FC&S Legal gives you instant, ongoing access to up-to-the minute daily case law analysis and commentary on the most significant insurance coverage law decisions from courts across the country; legislative and regulatory developments; industry news (all written by two former "Big Law" attorneys, one a Harvard Law School graduate); interviews with—and in-depth articles by—experts on insurance coverage law; full text of court opinions; a highly(concentrated collection of research materials; as well as a vast trove of resources and forms not available anywhere else.
You have received this email at %%merge members_.emailaddr_%%.
Click here to unsubscribe from %%merge list.descshort%%.
Copyright © 2017 ALM Media, LLC. All rights reserved. Privacy Policy
If you would like to opt-out from receiving other marketing emails from ALM, visit your email preferences center here.

4157 Olympic Blvd., Suite 225
Erlanger, KY 41018
1-800-543-0874